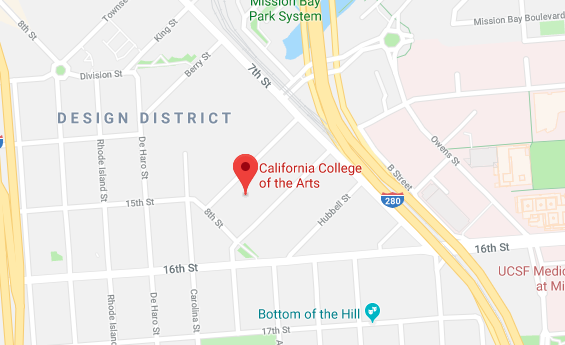 Directions to San Francisco Campus
The San Francisco campus is located at 1111 Eighth Street, between Hooper and Irwin.
By car from the East Bay
Cross the Bay Bridge (80 west)
Take the 9th Street exit, turn left on 8th street, and get into the lane second from the left
Turn left on Brannan, right on 7th Street, right on Irwin Street, and right on 8th Street
By car from the Peninsula/South
Take Highway 101 north
Exit at Vermont Street and turn right on 16th Street, then left on Wisconsin
By car from Marin/North
Cross the Golden Gate Bridge
Take the Lombard Street exit, turn right on Van Ness Avenue, cross Market Street, and continue on South Van Ness
Turn left on 16th Street and left again on Wisconsin
By BART and Bus
Exit Montgomery Street station at Sansome and Sutter
Take Muni bus 10 to 15th Street and Rhode Island and walk east two blocks to the campus.
Or
Exit at Civic Center station (8th and Market Streets)
Take Muni bus 19 south to 15th Street and Rhode Island
Walk two blocks east to the campus
Or
Exit 16th Street station (16th and Mission Streets)
Take Muni bus 22 east to 17th and Wisconsin
Walk one block north to the campus
Alternatively,
Take the new Muni bus 55 east to 16th and Missouri
Walk one block west to 8th Street
---
Directions to Oakland Campus
The Oakland campus is located at 5212 Broadway, at the intersection of Broadway and College Avenue.
By car from San Francisco/West
Cross the Bay Bridge
Take I-580 to Highway 24 east
Exit at Broadway, turn right, and proceed south
By car from Marin/North
Cross the Richmond–San Rafael Bridge
Take I-580 east to Highway 24 east, exit at Broadway, turn right, and proceed south
By car from Walnut Creek/East
Take Highway 24 west, exit at Broadway, and proceed south
By car from San Jose/South
Take I-880 north to the junction of I-980 to Highway 24 (Walnut Creek)
Take Highway 24 east, exit at Broadway, turn right, and proceed south
By BART
Take BART Pittsburg/Bay Point line and exit at Rockridge station
On College Avenue, take AC Transit bus 51A south toward downtown Oakland
Or
Walk seven blocks to the intersection of Broadway and College