---
Graduation vs. Commencement
A student graduates upon completion of all academic requirements as recorded on an official transcript. The diploma marks recognition of the degree the student has earned.
Note: Only eligible graduating students have the opportunity to participate in commencement.
Graduation Fee
The graduation fee is $100. This is a one-time fee that applies whether or not you choose to attend the commencement ceremony. The fee covers the administrative process of your graduation form and the printing and certified mailing of your diploma.
Should you choose to participate in the commencement ceremony, the college is committed to celebrating new alums by covering the costs of the ceremony and reception including gown and tam rentals provided to every eligible graduating student.
---
CCA has its own interpretation on commencement regalia!
Tams
CCA has a long tradition of wearing tams (also known as berets) instead of the traditional mortar board and tassels. No one is quite sure how this unique CCA tradition started but it remains one of the most revered attire. Check out the class photo from 1942 below!
Gowns
As part of the college's commitment to sustainability all gowns are rented through Herff Jones, academic regalia company. Typically the college would cover the rental cost of gowns and distribute them to graduating students during commencement week. Unfortunately we are still determining the safest path forward to celebrate our graduating students given the constant changing state of the pandemic.
Master's Hoods
As part of the academic regalia for graduating master students. Hoods are rented along with their gown as part of the college's commitment to sustainability. Similarly to gowns, the rental costs of the hoods are covered by the college. Those students seeking to purchase a master's hood can either search online or purchase directly through Herff Jones. The hood colors are based on conferred degrees: MA - white, MDes - gold, MFA - brown, MBA - drab, and MArch/MAAD - purple.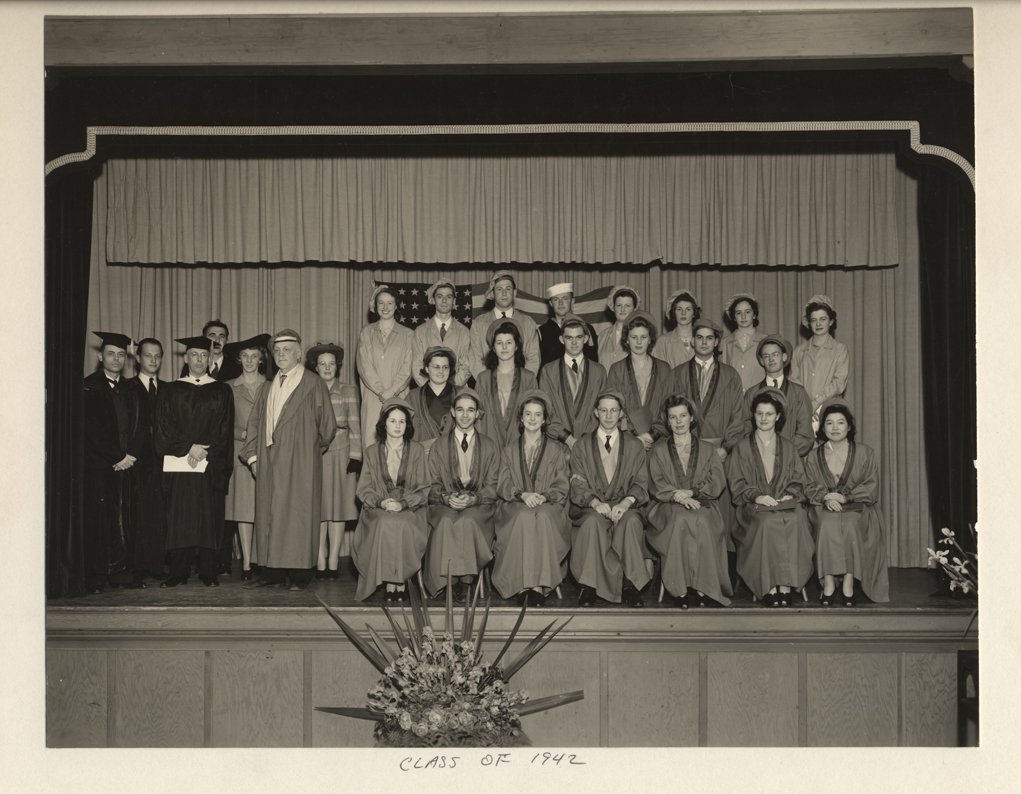 ---
Commencement Student Advisory Group
The Commencement Student Advisory Group represents the graduating class at Commencement Planning Committee (CPC) meetings to offer insight and provide feedback in planning this year's commencement experience in the wake of the pandemic.
Saieesha Adlakha (BFA Interior Design)
Abigayle Cosinuke (MFA Design)
Morgan Guerra (BFA Photography)
Quetzalli Jimenez (BFA Illustration)
Lamont Lamar (BFA Film)
Ben Lang (DMBA Design Strategy)
Elisa Lopez (BFA Industrial Design)
Emily Markert (MA Curatorial Practice)
Andrea Murchie (DMBA Design Strategy/ MFA Design)
Shrey Purohit (BFA Illustration)
Rosy Perez (BFA Animation)
Marion Rosas (MArch Architecture)
Jamie Rose Valera (BA History of Art & Visual Culture)
Navya Sharad (BArch Architecture)
Shalvi Sharma (MDES Interaction Design)
Vivian Tov (BFA Illustration)
Jazmyne Woffard-Jones (BFA Photography)
Ingrid Yang (BFA Graphic Design)
Steps to Participate in Commencement