Graduate Student Information
Graduate Student Information
More information will be shared with steps to participating in this year's commencement experience via email.
Save the Date: Saturday, May 11, 2024
10:00 a.m. - Doors open for students and guests (tickets are required, no exceptions)
11:00 am - Ceremony begins (expected to conclude at 12:00 p.m.)
Location: Sydney Goldstein Theater, 275 Hayes Street, San Francisco, CA 94102
Vaccination Policy: We will be following Sydney Goldstein Theater guidelines on vaccination mandates.
Sydney Goldstein Theater's COVID protocol follows San Francisco Department of Public Health guidelines and/or requirements of the featured guests. At this time, masks are encouraged but not required. Additionally, we will continue to follow CDC guidelines and local health directives.
---
Student Speaker Nomination
The process of participating in the student speaker selection process is a time honored tradition and we invite this year's commencement class to either nominate themselves or others to participate.
Submit nominations (CCA email required)
---
Holding on to the many lessons learned the last few years and being mindful of the health and safety of our community, we are providing the following options to participate in this year ceremony.
Please note: Purchasing of regalia is not required but optional.
Option 1: Celebrate as you Authentic Self
As an artistic community, we encourage you to embrace unconventional ceremony attire: choose to wear something that feels celebratory, expresses your identity, and shows off your creativity. Find, make, or borrow something.
Option 2: Purchase Herff Jones College Package
Looking for something more traditional? In partnership with Herff Jones, a company that specializes in academic regalia, we are offering an opportunity to purchase a gown and tam through one of these three options:
Graduation Regalia (includes tam, gown, tassel, and hood) for $93.85.
Stole Package (includes tam, gown, tassel, hood, and stole of gratitude) for $108.60
Diploma Frame Package (includes frame tam, gown, tassel, hood, and stole of gratitude) for $271.60.
DEADLINE: The last day to order online and have shipped to your home address (domestic or international) is Monday, April 1, 2024 at 8:59 PST.
Purchase Herff Jones College Package (select Master Ceremony)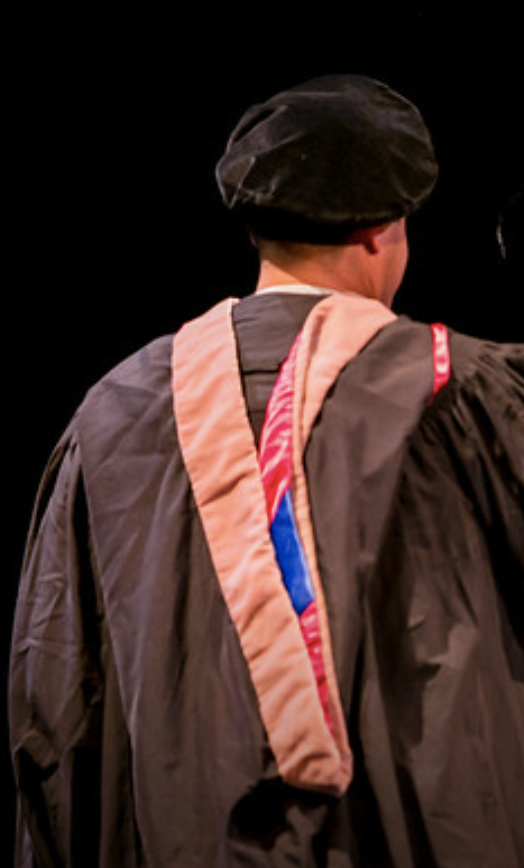 Option 3: Purchase Academic Regalia through Other Online Stores
You are welcome to purchase traditional academic regalia from other online vendors. Please be aware that master gowns have extended traditional sleeves and hood colors are based on conferred degrees.
The hood is composed of 3 parts and colors:
Lining Color (1st School Color in the large area):
Chevron Color (2nd School Color in the center area):
Velvet Color (Degree Color):

MA – white
MDes – gold/yellow
MFA – brown
MBA – drab
MArch and MAAD – purple
---
CCA has a long tradition of wearing tams (the velvety, beret-like cap) instead of the traditional mortar board and tassels. What's with the tam? Learn more about the origin of this historic CCA tradition.
---
For information about diplomas, including instructions on setting your diploma mailing address and ordering diploma frames, please see the Diplomas page.
---
Students can now display their accomplishments with college rings from Herff Jones. There are numerous combinations that allow you to customize your class ring to be reflective of your accomplishments while at CCA.
---
Career Development makes available valuable student and alumni professional services that embody the college's goal to equip students and alumni with the confidence and tools to assert themselves, their work, and their roles as cultural leaders in the world.
International Student Services (ISS)
International students with F-1 status may be eligible to seek permission to work in the United States for up to 12 months beyond graduation. If interested in applying, contact the ISS Office as soon as possible.
Graduating students automatically become members of the CCA Alumni Association. Membership benefits include social, networking, and career opportunities as well as access to campus libraries.