Workplace Ergonomics Tips
Workplace Ergonomics Tips
Ergonomics is the process of designing or arranging workplaces, products and systems so that they fit the people who use them. Optimizing your office workstation setup enhances business performance and your comfort in the workplace.

Why is ergonomics so important?
Preventative. The body can be stressed by an awkward posture, or repeated movement and cause your musculoskeletal system to be affected. Your body may begin to have symptoms such as fatigue, discomfort, and pain, which can be the first signs of a musculoskeletal disorder.
Refer below for a quick set up process and items to be mindful of, when using a hot desk on campus. Feel free to also watch a full ergonomics presentation from our Workers Compensation provider, Chubb and check out the resources on the right for more guidelines and checklists.
Key Concepts for Proper Ergonomics & Wellness
It's all about neutral posture, no straining: ears over shoulders over hips
Listen to your body, there is not one ergo set up for everyone - standing all day may not be a full benefit. If your body is feeling discomfort, make the necessary adjustments.
Breaks = Recovery: frequent breaks are important for your body, such as putting hands down in your lap or looking away from the monitor every 20 minutes for 20 seconds at something 20 feet away.
Posture: small changes make a big difference!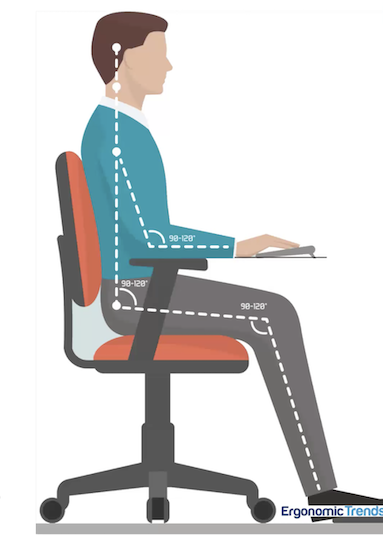 Desk Set-Up Steps:
Adjust the Chair

Feet flat on the ground
Seat height adjusted so the thighs are parallel to the floor
Lumbar support adjacent to the small of the back
Upper arms located by the worker's side

Table Height

Elbows at 90 degrees with wrists straight
Forearms parallel to floor

Keyboard/Mouse (provides wrist support)

Keyboard at the same height as the elbows
Mouse located next to the keyboard and at the same height

Monitor Height

Top of screen at eye level
Monitor located approximately arm's length away from worker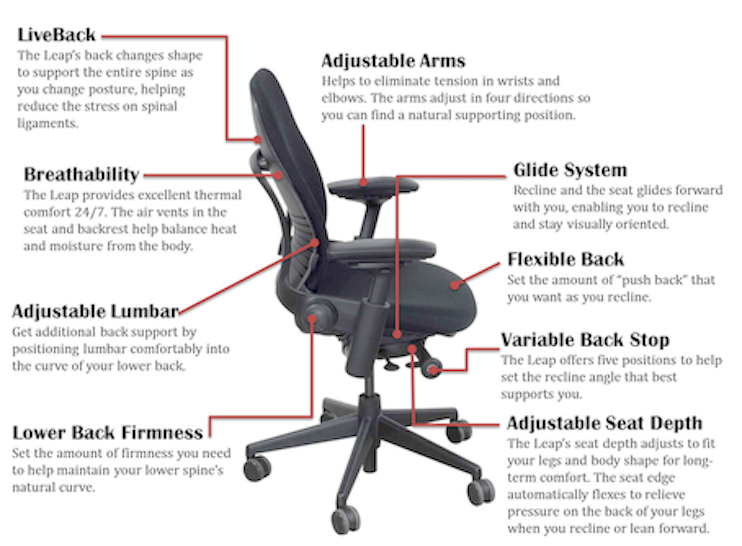 Additional Standing Workstation Modifications:
Alternate between sitting and standing, sit before discomfort occurs
When standing, use an "at ease" posture to encourage movement
Wear a shoe that offers good support
Use a foot rest to reduce fatigue and increase stability
Use an anti-fatigue mat to reduce standing discomfort
Elbows at 90 degrees with wrists straight
Upper arms located by the worker side
Mouse located next to the keyboard and at the same height
Keyboard at the same height as the elbows
Top of screen at eye level
Monitor located approximately arm's length away from worker