Panopto
Panopto is a licensed private streaming video platform with fully-featured editing capabilities that provides automatic closed captioning. It has built-in integrations with Zoom and Moodle.
---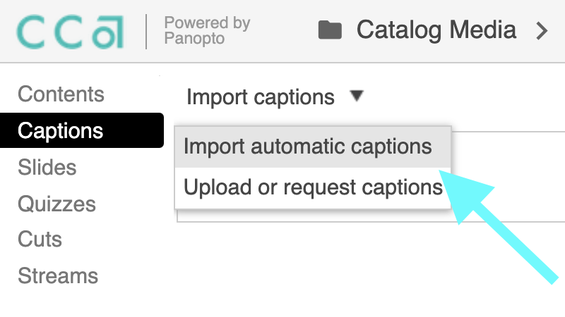 Adding closed captions
Panopto automatically generates closed captions for every video. You do not have to use these captions, nor are they enabled by default, but they will always be avaialble after a processing period. It typically takes one-and-a-half times the video's length for the captions to be created e.g. for a 20 minute video it would take 30 minutes for the captions to be ready.
To add captions to your video:
locate the video in Panopto and edit it (pencil icon)
select the captions tab from the left side
in the drop-down menu, import automatic captions
review and edit the captions for accuracy, they are usually very good but inevitably some errors are included
Understanding folders: My Folder
Everyone has their own "My Folder" in Panopto where they have full Creator privileges, meaning they can create content of any type (sessions, folders) and modify all the settings on that content.
If you want to share content more broadly, first create a folder within My Folder. Next, edit the new folder's settings, changing the Sharing settings to the desired level.
Folder Sharing Settings Explained
Specific People - only the list of individuals and user groups beneath "Who has access" are able to view the video. Some users may have "Creator" or "Publisher" rights; these are labelled.
Note that Moodle's Course Folder uses the "Specific People" sharing settings: it creates three user groups (Creators, Publishers, and Viewers) for each course, then puts all the instructors into the Creators group and all the students into the Viewers group. This makes it somewhat easy to share a video with a specific course—go to Invite People and type in the exact course and semester code (e.g. "PHCRT-2000-1-2020FA") to find the course user group's you want to share with.
Anyone at your organization with the link - anyone with a CCA account can sign in to see this video, but they would need the link shared with them somehow beforehand.
Anyone at your organization - like the above, anyone with a CCA login can see the video, but not only that they can also search for and find the video in Panopto. This causes your video to show up under the "What's New" and "Shared with Me" sections that people see when they first sign into Panopto.
Anyone with the link - anyone can access the video without signing in. Only use this for public content where you do not mind anyone seeing it.
Learn more about sharing videos from Panopto's own documentation.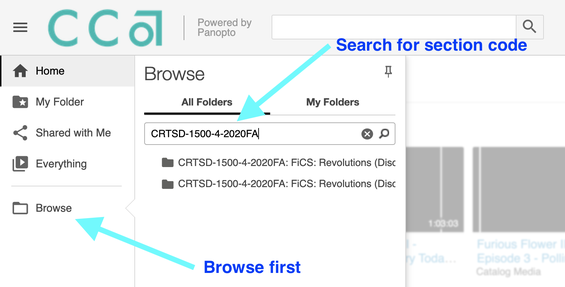 Course Folders
Instructors will also have one Course Folder for each course they are teaching. Inside the Course Folder, all videos are visible to your students and you have Creator rights. There will also be a special Assignments folder inside your Course Folder where student uploads go to.
The course folder name will follow a standard naming convention that shows the course section code, semester code, and then course title. For instance, for a "Techo Ethics" course from Fall 2020 the folder is named "PHCRT-2000-1-2020FA: Techno Ethics".
If you want to copy a video session from one course folder to another, see the Panopto and Moodle section.
To find our course folder by searching (recommended):
Select the Browse button from the left hand side in Panopto
Copy-paste the full section and semester code into the search bar e.g. "PHCRT-2000-1-2020FA"
Because this uniquely identifies the course, there will be only two folders shown (one is the Course Folder, one is the Assignments folder), select the first one. If we accidentally select our Assignments folder, we can click the up arrow icon to move to its parent folder, the Course Folder.
To find our course folder by browsing:
Open the same Browse menu used above
Drill down from the Moodle folder to the semester e.g. "2020FA" to the department code e.g. PHCRT

Colocated courses are an exception; they are under "Metacourses" instead of a department code

Locate the Course Folder by name e.g. "PHCRT-2000-1-2020FA: Techno Ethics"
Assignments Folders
Inside each Course Folder is a special Assignments folder with the same name as the Course Folder except for a postfix "[assignments]". So for our Techno Ethics example it is named "PHCRT-2000-1-2020FA: Techno Ethics [assignments]". When our students use the green Panopto button in Moodle's text editor, their videos save here. By default, instructors can see all student uploads but students cannot see each other's.
How to let students see each other's sessions in the Assignments folder: go to the Assignments folder (you can click the Course settings link in Moodle's Panopto block to easily access its parent Course Folder) then select the gear icon from the upper right. On the Settings tab of the folder settings, select the checkbox for "Allow viewers to see each other's sessions."
Multiple assignments: for a number of reasons, we may want to use multiple assignment folders. For instance, we may ask students to critique each other's videos but later want them to submit a private final product. When you are done collecting videos for an assignment, you can go to the Course Folder's settings' Overview tab to Close the Assignments folder. This prevents students from uploading to the folder and adds a "[closed: (date closed)]" postfix to its name e.g. "PHCRT-2000-1-2020FA: Techno Ethics [assignments] [closed: 2020-09-04]". Next, we can use the Course Folder's Overview tab to Create Assignment Folder. This makes a new, empty Assignments folder. Once again, by default, students will not see each other's videos.
Learn more about Assignment folders from Panopto's own documentation.
---
Panopto Integration with the Zoom Cloud
When you record to the cloud using Zoom, Zoom will automatically share that video with Panopto. It will be placed in a custom folder named "Meeting Recordings," which is a subfolder inside your "My Folder." It will not yet be accessible to your students. You will need to move it from the Meeting Recordings folder to the Course Folder, which will have been automatically created for you and have your course code in the name. See the Course Folder section above for help finding your Course Folder. You can insert the video into the text editor in Moodle (see the instructions for Sharing Videos in Moodle).
---
Adding the Panopto Block
The "Panopto Block" is a Moodle tool that will communicate essential enrollment information between Moodle and Panopto. You need to add it to your Moodle course in order to share Panopto content in Moodle.
Log into your Moodle Course as the instructor.
Turn editing on.
Scroll all of the way to the bottom of the column on the left and click "Add a block" (this option will not appear unless you are on your course page and have turned editing on).
Choose the Panopto block from the list of choices.
Sharing Videos in Moodle
Now that your Panopto block has been added, Moodle and Panopto will talk to each other, and Panopto will automatically make a folder for your course and provide access to that folder to all of your enrolled students. You can now share videos anywhere you see a Text Editor. You have Text Editors in almost every tool in Moodle (assignments, forums, pages, labels, etc.). Follow these steps to share a video:
Click the green Panopto icon in the Text Editor (between "Manage Files" and "Underline").
The "Insert from Panopto" window will open.
If you've already added content to your Course Folder, you can "choose" it, or you can click "Upload" to add a video you have saved on your computer or "Record" to record a new video (this will prompt a download of the Panopto desktop application if you do not already have it).
Make sure any videos you are inserting (whether they are already in Panopto or new content you are uploading) are in your Course Folder. Your Course Folder will have your course code in the name. Anything not in your course folder will not be accessible to the students (the default in Panopto is that videos are private, but your course folder gives your students the necessary permission).
Click "Insert" and your video will appear in the Text Editor! Save your changes and now the video will be available to your students.
Using a Video in Multiple Courses
Because videos in a course folder are only shared with that course, you unfortunately cannot simply insert the video into another course and expect students to be able to watch it. You need to do one of two things: import the video into the second course or create a copy of the video in the second course folder, then insert it into a text area in Moodle. Here is a video demonstrating these approaches.
Importing via Moodle
This approach is suitable if your video is relatively isolated in Moodle (e.g. it is on a Page all by itself), making it easy to import. It will not create a copy of the video either, so if you edit the original the video will be updated in both courses. Read more about importing in Moodle here.
Sign into the destination course & use its gear icon to import
Locate & select the origin course (e.g. by searching for its section code, "PHCRT-2000-1-2020FA")
You can leave the first page of checkboxes as is, proceed to the next page which shows all the elements of the origin course. You may uncheck everything by selecting none then pick first the section (topic or week) that contains the specific element (Page, Assignment, Forum, etc.) with the Panopto video
Finish the import. You are shown the destination course with the newly imported content
Copying via Panopto
This approach is suitable if your video is harder to extract from its context in Moodle, e.g. if you want to use one single video on a Page resource that also has several other components. The copying approach also creates a completely new video, which lets you edit each independently, customizing them for their respective courses.
Locate the original video in Panopto, e.g. by searching for its title
Go to its settings (gear icon) & then the Manage tab
Use the Copy session link to create a copy—we recommend leaving "(copy)" in its title to help distinguish it from the original
Now you are looking at the copy's settings use the Overview tab to edit its containing Folder
Delete the existing course folder name then find your destination course folder (e.g. by searching for its section code, "PHCRT-2000-1-2020FA")
Note: the video is now in the course's Panopto folder, but not yet in its Moodle site
Visit the destination Moodle course, edit the desired text area using the green Panopto button to choose the "(copy)" video & insert it
Using Panopto in an Assignment
If you want students to use Panopto, we recommend an "online text" assignment:
Go to your course and Turn editing on as normal
Add an activity or resource to the desired topic or week, select the Assignment activity
We strongly recommend adding our "instructions for students" (see below)
Under the Submission Types settings select Online text
Finish configuring the rest of the settings then select either blue Save button
Instructions for Students
It is possible for students to a) add videos to the wrong Panopto folder so you cannot view them, or b) use Moodle's native media or video features to add a video outside of Panopto. For those reasons, we recommend adding the following instructions, hyperlinks included, to the Description field of your Assignment:
"Please submit a video via Panopto for this assignment. To do so: select the green Panopto icon in the text editor, upload a pre-existing video file or record a new one into the course "assignments" folder (requires downloading the Panopto app). You can view a Panopto tutorial for students here."
Do you want students to see each others' submissions?
Take these two steps:
Use a Forum activity instead of an assignment, to give everyone easier access to each other's submissions
Go to your course folder, then enter its "[assignments]" subfolder
Select the assignments folder's Settings (gear icon), then the Settings tab within the settings
Check the box next to "Allow viewer's to see each other's sessions"
There are more details about Panopto folders and sharing videos under the General Use of Panopto section above.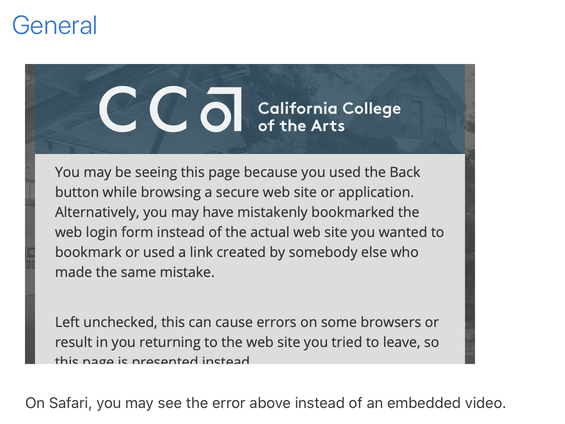 Why do I have problems playing embedded Panopto videos?
Panopto requires that your web browser allow third-party cookies. If you don't, you may see the CCA login page embedded in the frame and, even if you fill in your credentials, an error page and not the video. Fix this by changing your browser's settings:
Using Safari
Go to Safari > Preferences... (⌘ + ,)
Select the Privacy tab
Ensure that "Prevent cross-site tracking" is unchecked
You can read more about this in Panopto's support documentation.
In Mozilla Firefox
We have had inconsistent reports of the same problem in Firefox. Try altering the Privacy & Security settings:
Go to Firefox > Preferences... (⌘ + ,)
Privacy & Security section
Try using Standard settings
You can also go to the Moodle website in Firefox and select the multicolor shield icon next to the URL, then turn the "enhanced tracking protection" to "OFF" for the site.
Why do I keep receiving access request emails for my video?
This occurs when you have a video you have posted somewhere without giving it the proper sharing permissions. Here are examples of mistakes that lead to this:
An instructor posts a video to their Moodle site without adding the Panopto block
An instructor or student posts a video from their "My Folder" to a Moodle site
An instructor uses the Panopto button in Moodle to "choose" a video from another one of their courses
In both of the last two scenarios, the video simply needs to be moved or copied to the Course Folder and it will be visible to students.
In general, when you see this problem for a video posted to Moodle, one of two things has happened: 1) the instructor did not add the Panopto block to the course, or 2) the video is not actually in the Course Folder. Locate the video in Panopto to confirm its location; if it is not in the Course Folder, use the Move button to put it there. If the video is in another Course Folder, then Copy it and link to the copy to avoid causing the original course to lose access.
If you are experiencing this problem with a video not related to a Moodle course, then check the video's Sharing settings. It has been shared with someone who isn't allowed to view it, thus why they are requesting access. One way that this might occur include posting a video shared only with specific people to a public or CCA-only website. The choices "anyone with the link" or "anyone at your organization with the link" are the most suitable ones for widely distributed videos.
Why do I see certain videos under "What's New" or "Shared with Me"?
All videos are not shared with everyone at CCA. Their creator must choose to share them that way.
You only see the videos you are explicitly given access to. These could be works from courses you are a part of, or works in folders shared with you (e.g. faculty see the sessions in the Faculty Workshop Recordings area). It is entirely possible that someone has accidentally shared a private video, thus why it appears under What's New for you.
If you are fairly confident that you should not be able to see a particular video, please report that to the Help Desk with a link to the video.
Can I link to a specific time in a video?
Yes, you can — edit the URL of a Panopto link and add "&start=time" onto the end where "time" is the number of seconds you want skipped at the beginning of the video. You could also edit the "src" attribute of an embed code to apply this "start" parameter, like so:
<iframe src="https://ccarts.hosted.panopto.com/Panopto/Pages/Embed.aspx?id=1234567-7914-4100-b875-abcdefgh&autoplay=false&offerviewer=true&showtitle=true&showbrand=false&start=0&interactivity=all&start=100" height="405" width="720" style="border: 1px solid #464646;" allowfullscreen allow="autoplay"></iframe>