Add an Authorized User to Make Payments on Your Account - Step by Step Guide
Add an Authorized User to Make Payments on Your Account - Step by Step Guide
1. Go to Your TouchNet Home Dashboard
You can access TouchNet by logging in through Workday (steps below).
a. Log in to Workday at workday.cca.edu using your CCA credentials.
b. Click the My Student Finances icon (under the Applications section).
c. Click Pay and Enroll in a Payment Plan.
2. Access the Authorized Users Screen
a. Under My Profile Setup, select Authorized Users.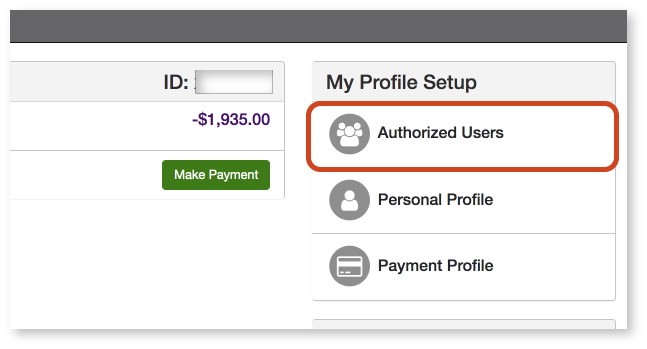 b. The Authorized Users tab on the resulting screen displays any currently authorized users (with access to your account information).
3. Add New Authorized User Info
a. Click the Add Authorized User tab.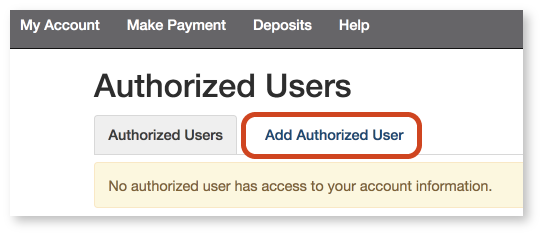 b. Read carefully over the information on the resulting screen, then enter the authorized user's email address.
c. Select the Yes button to allow the authorized user to view your payment history and account balance.
d. Click Continue.

4. Agree to the Authorized User Terms
a. Carefully read over the terms, which contain important policy information.
Notices may appear on this screen as well (within a yellow banner).
b. Check the box next to I Agree.
You may print the agreement on this screen before proceeding.
c. Click Continue to complete.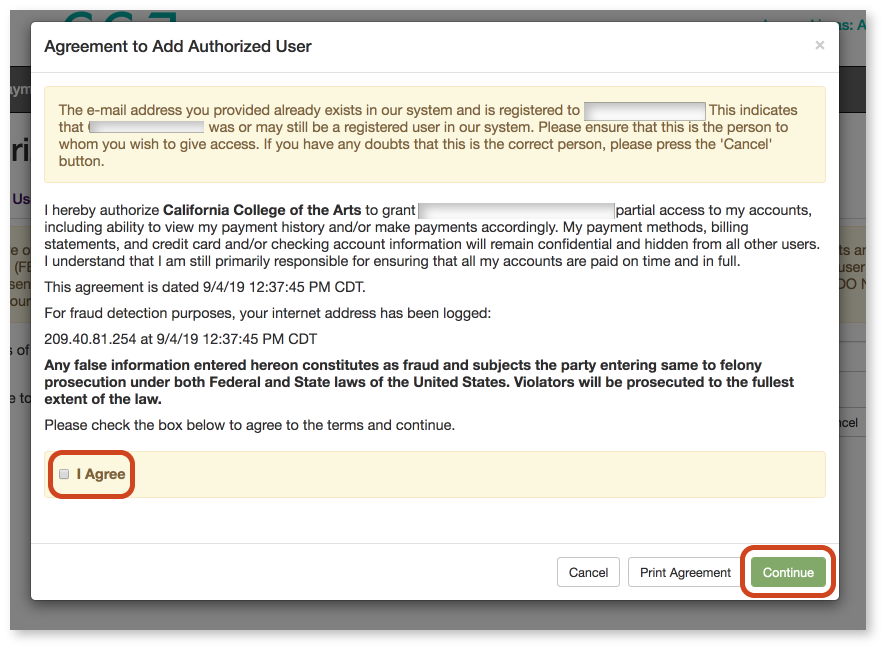 5. Review New Authorized User Entry
a. Upon completion, you will be directed back to the Authorized Users tab displaying all current users (including the one just added).
A yellow banner will confirm that the newly authorized user has been sent an email notification and that they will have their own TouchNet login credentials to access your account. Authorized users will receive a confirmation email with their username, password, and the website to access the students Touchnet account to make payments.

Note that TouchNet and Workday are separate systems, so authorized users in TouchNet will not have access to your Workday account.
b. You can remove an authorized user by clicking the gear icon in the Action column on this page.

---
Authorized User's Touchnet Direct Link
Authorized Users can login to Touchnet directly here.
Your username is the email address your student entered when you were added as an authorized user.
If you forgot your password, please click the 'Forgot Password' link on the login page. If you are still having issues logging in, please contact the Student Accounts Office at (415) 551-9389 or email studentaccounts@cca.edu during our office hours, Monday to Friday from 8 am to 4:30 pm.