Review Academic Records
---
Learn how to review past coursework, including transfer credit and grades earned, and monitor progress toward satisfaction of requirements and degree completion.
To access the Academics Dashboard, select the icon of three lines at the top left of your Workday home page and then select Academics. You may also select Academics from your Quick Tasks or Your Top Apps.
---
BEFORE AND AFTER REGISTRATION
You are responsible for reviewing your records and monitoring your progress towards degree completion
We recommend downloading a PDF copy of your Academic Record and Academic Progress Report for each registration cycle
Your Academic Record or Academic History is a comprehensive list of your past coursework, including transfer credit, grades and units earned, and cumulative as well as term GPA.
1

Select View My Academic Record

On the Academics Dashboard, locate the Academic Planning & Registration bulletin.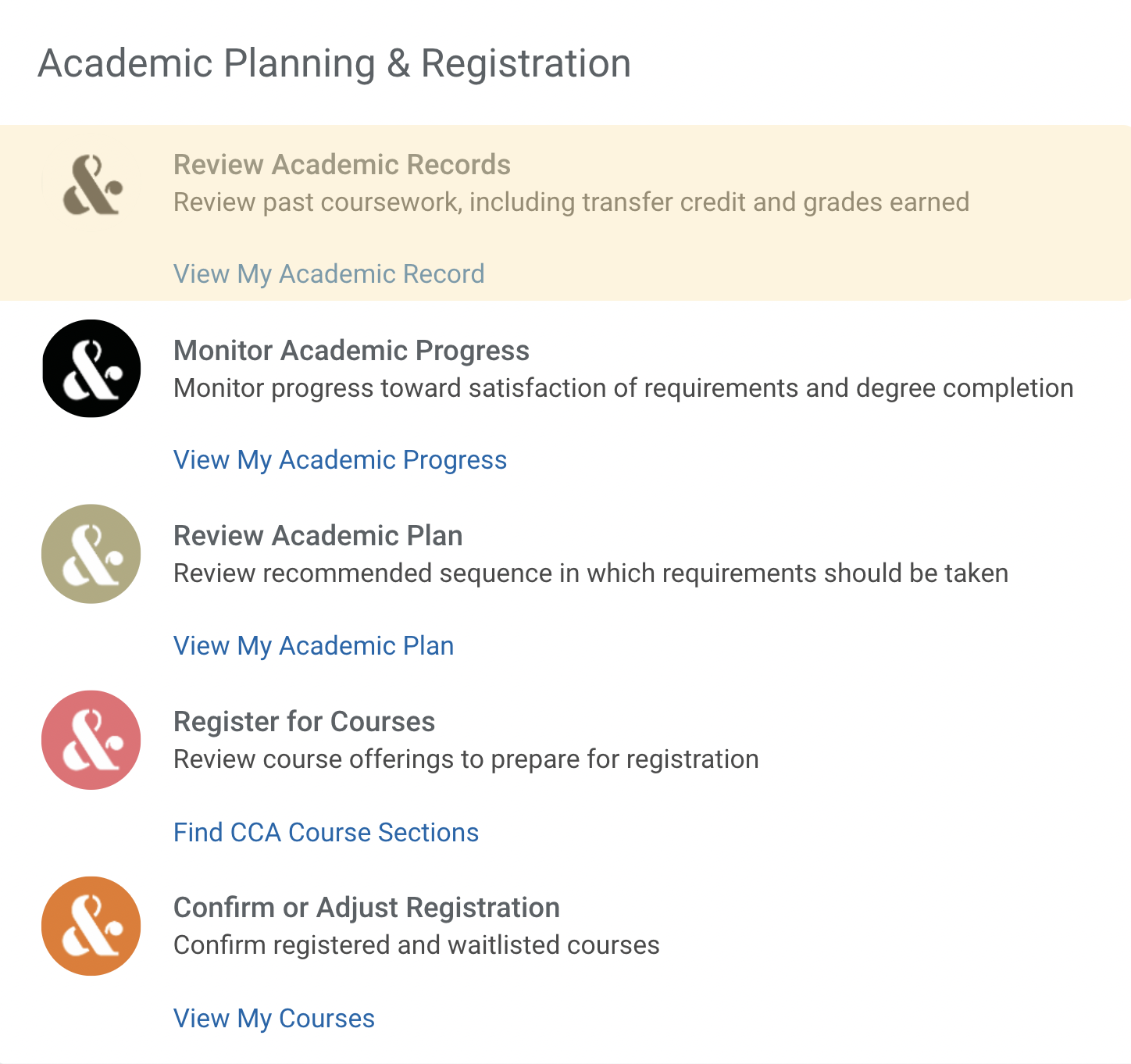 2

Review general course information
Course: course number and title
Grade: earned grade for course

A-F: letter grade (affects your GPA)
P: pass
NC: no credit
I: incomplete
W: course withdrawal
TR: transfer (does not affect GPA)
NE: non-course equivalency
EXT: extension

Grade Points: points assigned to a letter grade (ex: a C is worth 2 points)
Units: academic period units for each course.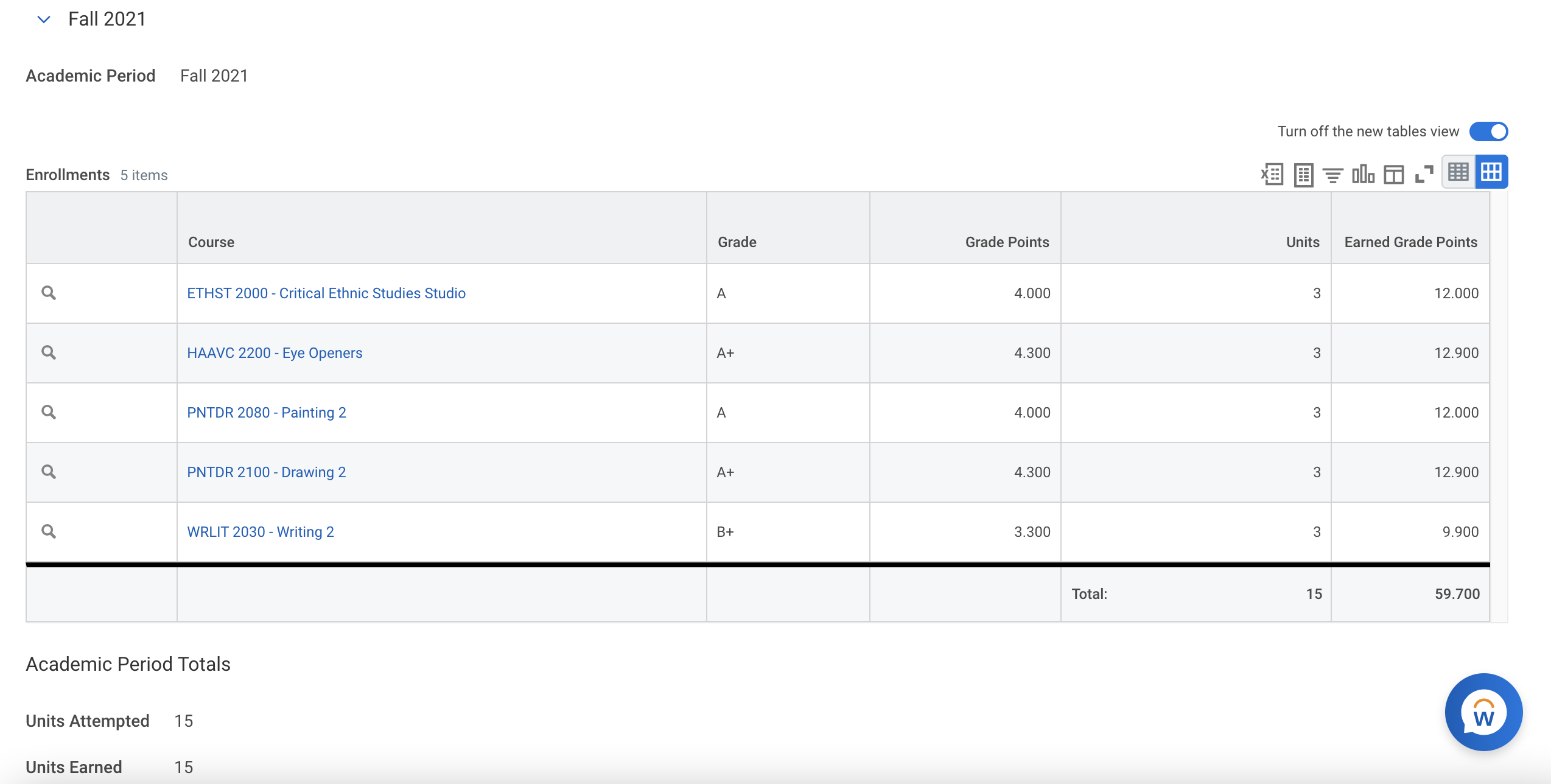 3

Review unit totals, GPA totals, and student standing
Academic Period Totals (for the listed academic period):

Units Attempted: total units for courses attempted
Units Earned: total units for courses successfully completed
GPA Units: total units earned for letter grade courses successfully completed
Cumulative Totals: totals for all academic periods through the one listed (does not include transfer credits)
Specialized Totals: same as Cumulative Totals but includes transfer credits (you will only see this section if you have transfer credit on file)

Student Standings (for the listed academic period):

Class Standing: identifies class level (such as First Year)
Load Status: indicates part-time or full-time status for that period

Full-time is 12 units or more for undergraduates and 9 units or more for graduates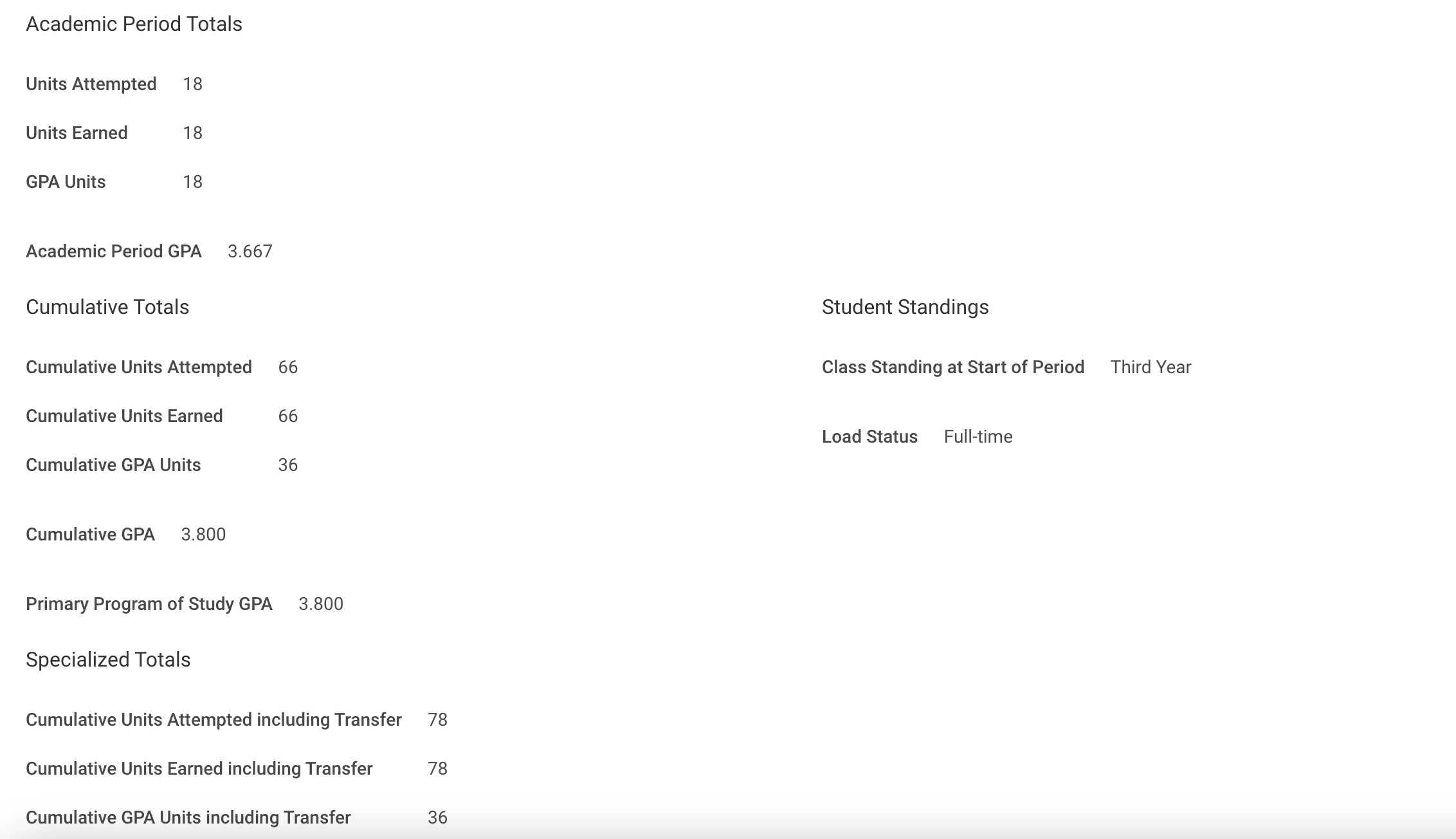 4

Review transfer credit (if any)

Transfer credit may come from previously completed coursework and/or exams.
Your Academic Progress is a report that shows how coursework applies towards your degree, displaying which degree requirements are satisfied, in progress, and/or not satisfied.
1

Select View My Academic Progress

On the Academics Dashboard, locate the Academic Planning & Registration bulletin.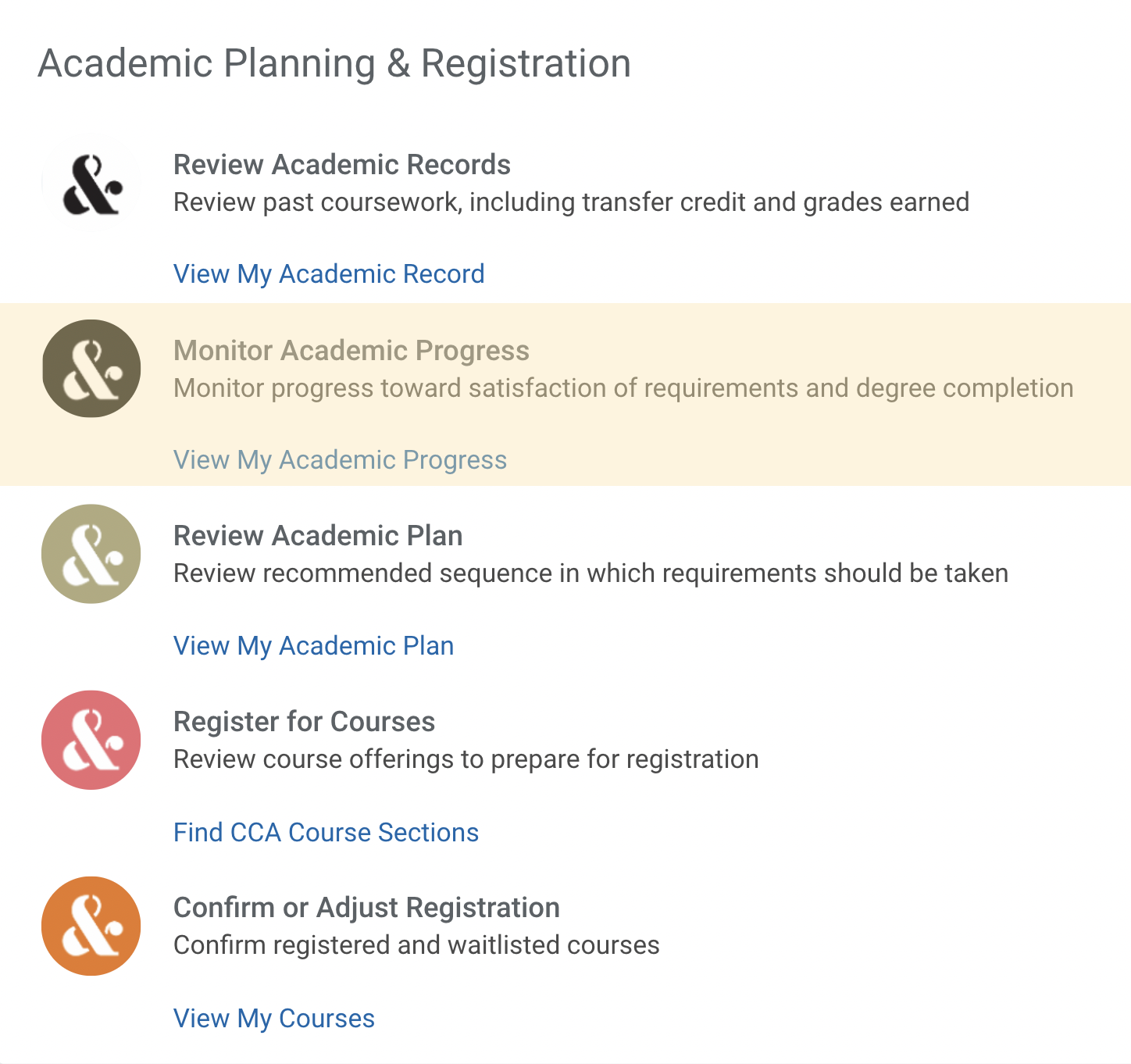 2

Review general information about your Academic Progress
Cumulative GPA: earned grade point average for all academic periods at CCA (does not include transfer credit)
Unused Registrations: courses that do not satisfy degree requirements
Program of Study GPA: earned grade point average for all completed program-specific courses that fulfill degree requirements
Requirements Effective: academic year you were admitted to CCA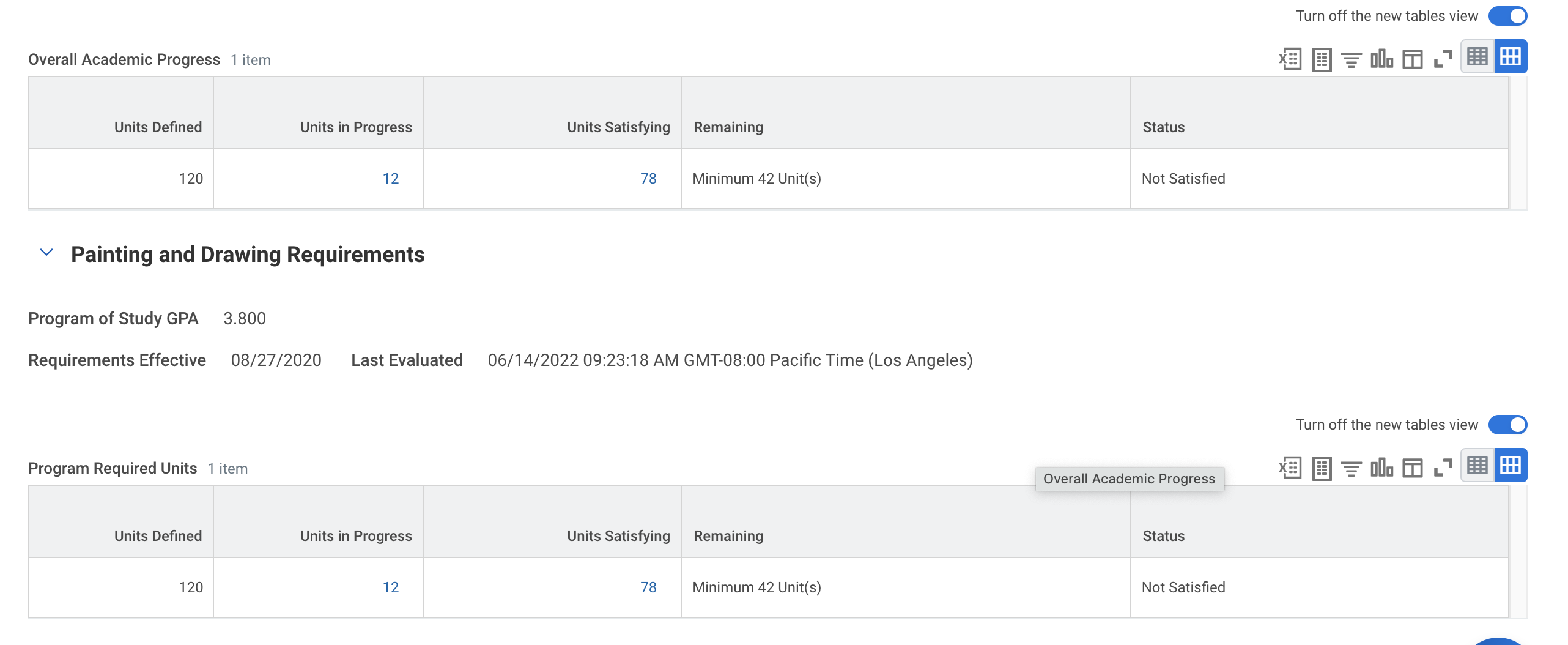 3

Review list of academic requirements for each enrolled program (dual degree graduate programs will display as a single program)
Requirement: name of requirement

For requirements noted with Override Assigned, an exception was granted
Contact Student Records for questions about overrides

Status: identifies requirement as not satisfied, in progress or satisfied
Remaining: number of units still needed to complete requirement
Satisfied With: courses that have satisfied / will satisfy a requirement

In Progress and Transfer Credit courses are noted in parentheses
If a course is missing from this list, check Unused Registrations and contact Student Records if you believe this course should fulfill a requirement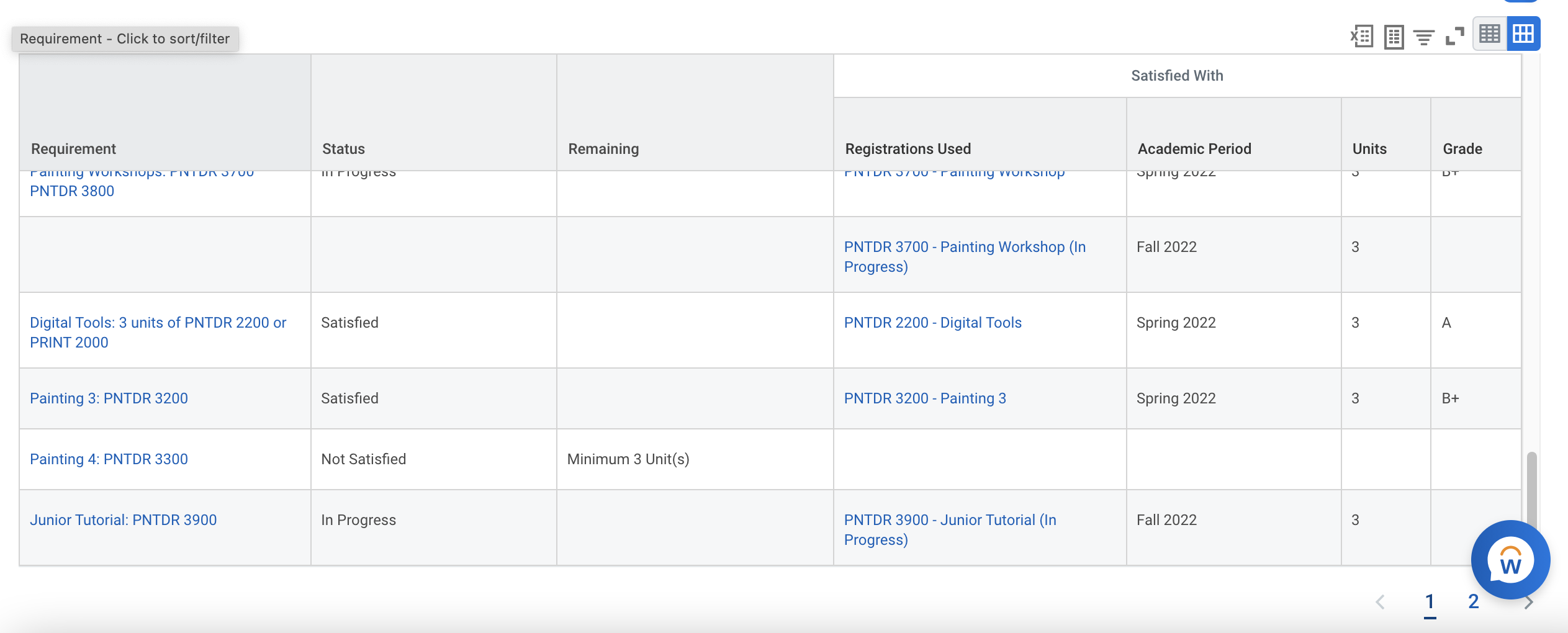 Student Records: Contact for inaccuracies in your academic record, registration issues, and information on applying for graduation
Academic Advising: Contact for questions about your Academic Plan, guidance on which courses to take, and registration support
Help Desk: Contact for technical issues with Workday and/or your CCA account
For any questions you have related to your student record, billing, financial aid, student immigration regulations and visa status, and housing and dining, email student services at ask@cca.edu or text (415) 915-2503.