Humanities + Sciences: Writing, MFA
About
The Bay Area, a place of profound literary history, is our playground. We emphasize a mentorship culture with award-winning, diverse faculty in fiction, creative nonfiction, poetry, and memoir. You'll have access to resources and literary institutions you won't find anywhere else, like City Lights Publishers and Litquake. In the fall semester, we offer Tuesday Seminar, a class that invites several distinct professional writers into the classroom with you.
MFA Writing Degree Program
Our two-year, 48-unit MFA Program in Writing includes workshops, craft seminars, literature courses, and mentored projects that help shape your thesis into a publishable manuscript.
We will challenge your understanding of theory, craft, and performance. Courses like Writing in Sound and Social Justice Narratives will inspire you to take risks and try new styles. Our faculty, all widely published, will encourage you to experiment with multimedia and cross-genre work. One of the perks of being at an art school is the opportunity to take courses outside of the writing discipline as well as collaborate with painters, photographers, filmmakers, bookmakers, and more. This nontraditional graduate experience is for those willing to move in new directions to find their unique voice.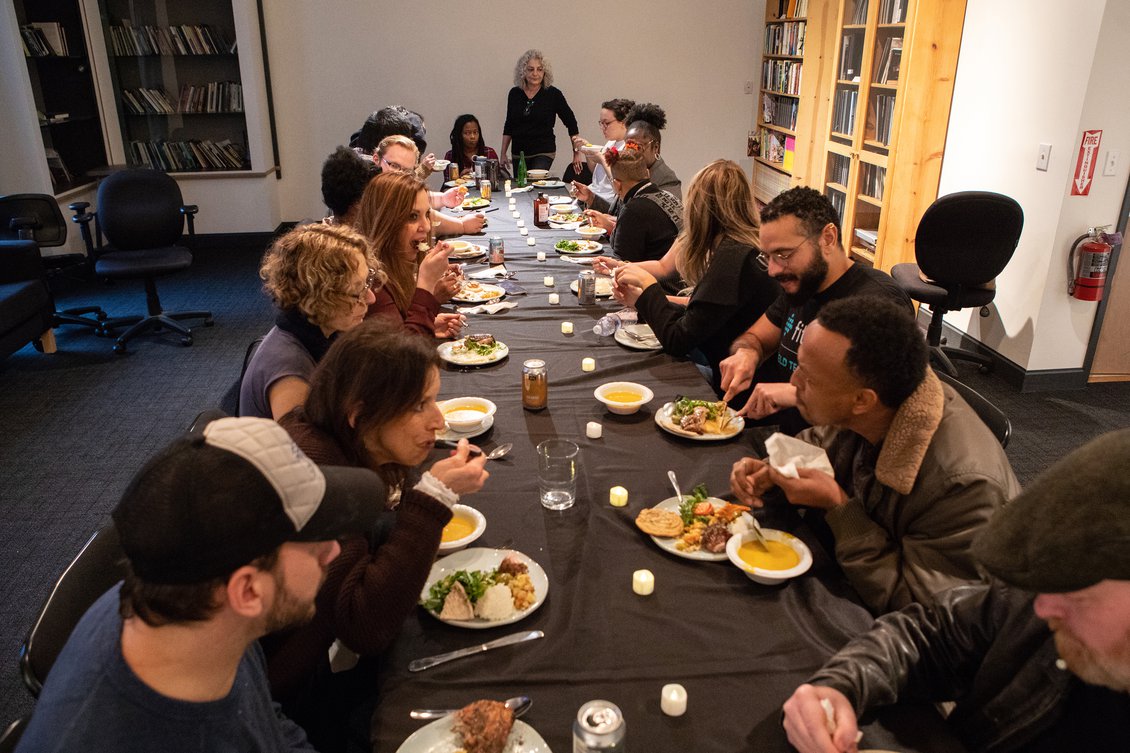 Diverse, Acclaimed Faculty
Our faculty members have been recipients of numerous prizes, fellowships, and artist grants. Their books have been New York Times bestsellers and award-winning collections in fiction, hybrid essay/memoir, poetry, literary criticism, creative nonfiction, and memoir. They are the voices of multiple genres, aesthetic traditions, and vibrant writing communities.
Tuesday Seminar with Guest Writers
A required course for first-year students, Tuesday Seminar features world-renowned writers and poets stepping into the classroom to speak directly with students. In addition to professional development workshops, students have the chance to engage in intense discussions around craft and the visiting writer's work. Seminars often culminate with a reading by the visiting writer.
We provide you with one-on-one study each semester with a faculty mentor to gain the structure to pursue your own direction seriously and intensively.
With the guidance of a two-person faculty committee, students complete a manuscript of poetry, fiction, or creative non-fiction. As a student, it's never too early to start thinking about thesis, although the process begins formally in spring semester of the your first year in the program.
Tuesdays are a busy time in our Writing Studio, with workshops running during the afternoon and a seminar in the early evening. Periodically during the semester we come together as a community of writers to enjoy a potluck meal together in our shared space.
End of the Year Graduating Class Reading and Celebration
This annual event is a presentation of thesis work, where graduating students read from their thesis manuscripts for friends, family, each other, and the First Year cohort.
Led by expert faculty, workshops in fiction, poetry, and creative nonfiction are designed to establish a community of writers while focusing on the individual writing direction and practice of each student. Learn more about workshops and our other courses here.
Jasmin Darznik
Program Chair