Maintaining Status (F-1 Students)
Maintaining Status (F-1 Students)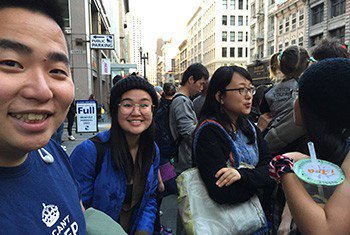 There are US government regulations international students must follow to maintain F-1 student status. Your status relates to the purpose, or reason for why you want to come to the United States. The U.S. Department of State issues you your visa based on your intended purpose. 
If you are an F-1 student studying in the United States, your DSO should be the first person you talk with if you have any questions regarding the legal requirements of your stay in the United States. Your DSO can assist in answering your questions or help you find someone who can help. The ISS Office is where you will find your DSOs!
F-1 students should speak with their DSO if you are planning to do any of the following:
Change your major, program, or degree level.
Change your education level.
Transfer to a new school or take a leave of absence.
Take a break from school.
Travel outside the United States.
Move to a new address.
Request a program extension.
Maintain Full-time Class Enrollment!
Undergraduate students must register for at least 12 units both spring and fall semesters. Graduate students must register for at least 9 units.
---
Other Important Elements of Maintaining Status:
Make sure your local address is current.
Keep your documents up to date.
All immigration related documents must be valid and up-to-date:

Passport must be valid six (6) months into the future
I-20 must be updated, current, and within the program dates
Stay aware of your program end date. Some students may be eligible for a program extension in order to extend the program end date on their I-20. For more information, see our Program Extension page.

Program extensions are for students that do not feel as if they will finish their program on-time.
F-1 students are allowed to stay in the United States for up to 60 days after their program end date. If you stay beyond the 60 day grace period after your program completion date, you will be in violation of status and may not be able to enter or study in the United States in the future.
Contact ISS immediately if there are any changes to your I-20, or if you plan to make any changes. (Changes of major, program extensions)
Work only with authorization.
You must receive written authorization from ISS and/or the U.S. Citizenship and Immigration Services (USCIS) before beginning any kind of employment. Employment includes internships, whether paid or unpaid. Learn more about employment options here.
Make sure you are ready for international travel.
File required tax paperwork
---
Failure to Maintain Status
Violating F-1 status by not following the guidelines listed above and listed on page 3 of your I-20 could have very serious consequences. F-1 students that stay in the United States once they have done something to violate F-1 status (examples: dropping below full time enrollment without approval, working without authorization, or not reporting employment updates on OPT - just to name a few!) are accruing unlawful presence. Accumulating multiple days of unlawful presence can mean you will be barred from getting a new visa to come to the US in the future. For more information, review the USCIS Unlawful Presence policy.