First-Year Student Orientation
First-Year Student Orientation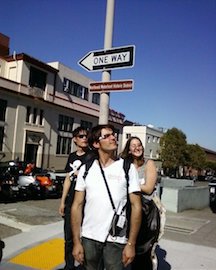 Welcome to California College of the Arts!
This is it -- you are officially in your first year of college!
Start connecting with the community.
Your colleagues, faculty, and friends can become a part of your life-long network.
The First Year Program (FYP) exposes you to inspirational activities and challenges alike that are inherent in your first year at college. We hope that your outcomes will be unique and rewarding.
Use the following checklist to ensure you start orientation on the right foot.
2023 Fall New Student Orientation & Chimera Welcome Week
New Student Orientation will be on a Moodle online course. Completion of the online new student orientation is required prior to attending in-person Welcome Week and the start of the semester. Incoming students will receive a notification to your CCA email address with log-in information. The Chimera Welcome Week schedule will be available on the portal on August 1st.
---
Steps to a Successful Orientation
Step 1: Review CCA's Undergraduate Enrollment Checklist
Step 2: Get Registered
All incoming students will be automatically registered for their first semester of classes by CCA based on their academic plan. Incoming first year students will be enrolled in their required First Year Core classes and do not need to take any action. Students with transfer credit should make an appointment to review their academic plan with their counselor before they are registered.
Step 3: Determine Writing Course Placement and Submit Additional Portfolios for Review
Writing Course Placement

Students are placed into writing courses based on the results of their SAT or ACT test scores, Advanced Placement or International Baccalaureate exam scores, their transfer credits, and/ or their completion of CCA's Summer Start program. All undergraduate students are required to be placed in or waived from writing courses prior to starting their first semester at CCA.

Submit Additional Portfolios for Review:

If you have prior college-level coursework and/or experience in the following areas, you must submit materials (in addition to those submitted upon application) to be considered for any additional transfer credit, course substitutions, or waivers. Submit additional materials as soon as possible and prior to orientation to ensure you are registered appropriately.
Step 4: Read Student & Program Technology Requirements
All incoming students are required to own an external storage device and laptop that meets CCA's minimum system requirements, outlined on the Student Technology Requirements page. Students who know their intended major should purchase the laptop and external storage device specific to their programs, listed on the Program Technology Requirements page.
Access to software for classroom-use such as Moodle, Mural, and VoiceThread can be found on the Student Software page and project-specific software like Adobe, Autodesk, Rhino and many other titles on the Creative Software page.
Step 5: Determine Health Insurance Eligibility
Health Insurance

All students who are registered in 12 or more units per semester (9 units per semester for all graduate students) are considered full-time students. They are, therefore, required to have health insurance coverage.
The college has secured a group health insurance policy (an Aetna PPO plan) that provides year-round coverage.
Part-time students are ineligible for CCA student health insurance.

Waiving Student Insurance

You may waive CCA's coverage by submitting an online waiver application before the end of the add/drop period.
A student's own health insurance must meet minimum coverage requirement to qualify for an approved waiver.
Step 6: Read the Student Handbook
The Student Handbook serves as a guide to the programs, policies, procedures, requirements, and resources of CCA.
Students are strongly encouraged to read the entire handbook.
Step 7: Follow Office of Student Belonging & Inclusion on Instagram
Orientation leaders are fellow students who play an integral role in helping students transition to college life.
Instagram: @ccaosbi
Additional: Student Council Facebook - get connected with other current CCA students.