My Portal Profile: Privacy Settings for Faculty + Staff
My Portal Profile: Privacy Settings for Faculty + Staff
Documentation on several profile features are included below. Check out these instructions, then learn more about your profile data and privacy settings below.
---
Profile features + instructions
Update your profile avatar
Upload art to your profile gallery
Showcase your art by uploading images and even videos to your profile's gallery. Read the profile gallery documentation for more information on how this feature works.
---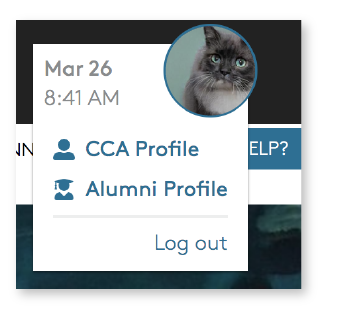 Where is your Portal Profile?
1) Log in to the Portal using your CCA credentials.
2) Click the circle in the upper right-hand corner of the screen (it will contain your profile photo).
3) Click CCA Profile in the dropdown menu.
Faculty or staff who are also CCA alumni will see two profile options here: CCA Profile and Alumni Profile. Read our alumni profile documentation for more information.
The date/time listed in your profile dropdown is based on your computer's current time settings, not your profile timezone settings.
4) The resulting screen shows your Portal Profile page.
5) To make changes to your profile, click Edit Profile.
---
Information pulled in automatically
Your name, CCA email, phone number (staff only), title/appointment(s), department/program, and classes you teach (faculty only) are pulled from Workday, which is CCA's official system of record. Your avatar/photo is pulled from a separate system.

What You Can Edit in the Portal Profile Editor
Of these fields, you can only edit Avatar from the Portal Profile editor. Updating your photo on Portal does not affect your photo on any other CCA system (and vice versa).
If you also have an alumni profile, your avatar is shared across both profiles. Any changes you make will carry over to both your alumni and faculty/staff profiles.

What You Can Edit in Workday
You can make updates to your Preferred Name in Workday, which will then show up as your name on Portal. Your Workday Preferred Name defaults to your legal name (including middle name or initials) unless otherwise updated.
What You Cannot Edit Yourself
Institutional contact information (CCA Email and Phone Number), title/appointment(s), and department/program cannot be edited directly in either Portal or Workday. The same goes for classes you teach (faculty only). Open a Help Desk ticket if either of these fields appears inaccurate in Portal.
---
Profile information visibility
Basic Information
Your basic profile information, such as your name, title/appointment(s), avatar/photo, and department/program, are visible to the World, meaning that Portal users do not have to be logged in to view it.
Classes You Teach
Faculty Portal profiles include a View Classes link to the Portal Schedule of Courses, pre-filtered to the course sections you are scheduled to teach in the current or upcoming term. Information for the Portal Schedule of Courses comes from Workday.

Optional Fields
Supplementary information you add, such as pronouns, personal websites, social media accounts, achievements, or About section description, will always be publicly visible.
Timezone, however, is an exception. To make your timezone information visible to other logged-in users, you must click Show. To view other people's timezone information, you must be logged in to the Portal.

Contact Information
Your CCA Email is visible to the World by default. You must request permission from the VP of your organization if you wish to restrict visibility to the CCA Community, or users who are logged in to the Portal.
Your Phone Number (staff only) is only visible to the CCA Community, but you can also set this field to be visible to the World.

---
How soon can you expect to see changes reflected?
Changes made in the Portal Profile editor are visible immediately.
Changes made in Workday are visible after a 24-hour delay.


---
Are you a student worker?