How do you practice Communal Responsibility?
How do you practice Communal Responsibility?
In this CCA@CCA Teaching Module, students are encouraged to reflect on their creative interests and make a plan to mobilize them in support of their community.
In the above lecture, titled "Communal Responsibility," Maestra Celia Herrera Rodríguez divulges what she learned on the path to discovering her causa (cause) as a Bay Area-based Xicana artist.
"There were two things that were set out for me since I was about 9 years old. One of them was that I would make art—and I felt that it was such a personal, very intimate experience—and the second thought that came to me was: well, what then will you do in the world? What will you do in the world, because if it's such a personal thing to you, then at what point is it that you belong to the world and respond to the world, and be of service to the world?"
Celia Herrera Rodríguez is a painter, performance and installation artist whose work reflects a full generation of dialogue with Chicano, Native American, Pre-Columbian, and Mexican thought. She is the co-founder and co-director of Las Maestras Center for Xicana[x] Indigenous Thought, Art and Social Practice at UCSB, where she also teaches Chicana[x] art history and studio practice in the Department of Chicano & Chicana Studies. She was previously Senior Adjunct Professor in Diversity Studies at California College of the Arts and taught in the Chicano Studies Program at UC Berkeley.
"Communal Responsibility" was presented on Wednesday, March 2, 2022 as part of the CCA@CCA Fluid Mutualism Symposium. The 2021–22 Fluid Mutualism program centered Indigenous knowledge and technology by focusing on four of the five pillars of the Communal Flower, a model for understanding communality in the ancient philosophy and daily practice of various Indigenous nations in southern Mexico: land, communal responsibility, assembly and joy. The symposium delved deeper into two of those pillars: communal responsibility and assembly. Documentation of additional symposium events is available in the CCA@CCA Archive.
Recommended reading: "Communal Responsibility Keynote Lecture" by Renata Blanco Gorbea (History of Art and Visual Culture 2025).
According to Celia Herrera Rodríguez, what is your responsibility to yourself as an artist or designer? Why is this a prerequisite to fulfilling your responsibility to your community and to the wider world?
In her response to Celia Herrera Rodríguez' lecture, Renata recalls her own upbringing in Mexico, which led her to recognize the importance of her writing practice to her community. What skills or interests do you have, that you feel compelled to develop? How will you use those skills in service to your community?
Towards the end of her lecture, Celia Herrera Rodríguez talks about artmaking as an opportunity to address issues directly: "If I can speak about it, if I can name it and I can then address it, then perhaps we can get past it. Then perhaps we know more than we did when we started out. As an art-maker, that has been my causa." What issues would you like to address in your creative practice? What issues give you a sense of purpose—what is your causa?
Think of a creative about whom you have recently learned, or whom you admire. Through their practice, what communities and conversations are they enriching?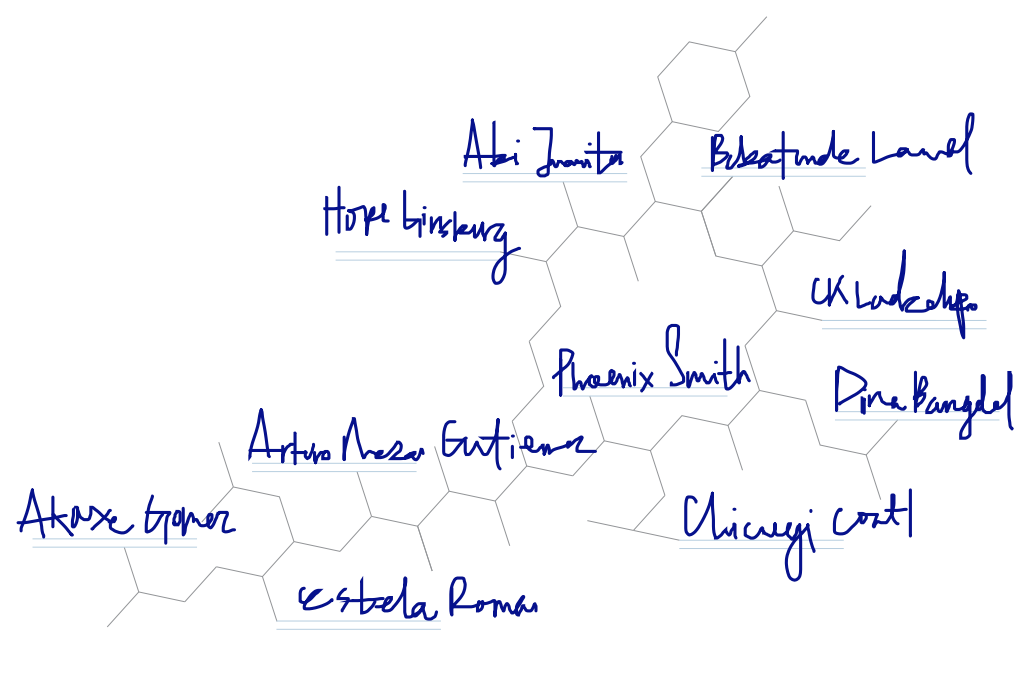 This worksheet, titled "Pedagogy Network: Mapping Kinship," was created by 2021–22 CCA@CCA Faculty Coordinator Professor V and graphic designer Sarah Chieko Bonnickson (MFA Design 2021). One version of the worksheet is modeled after the chemical structure of oxytocin, a hormone closely associated with our ability to build positive relationships, and the other is modeled after honeycomb, a structure representing the communality of bees.
Identify your community:
To whom do you owe gratitude? 
Who nurtured you?
Name the teachers, elders, and family members who helped shape your path on one of the worksheets linked below.
Oxytocin Worksheet (up to 10 names) ➞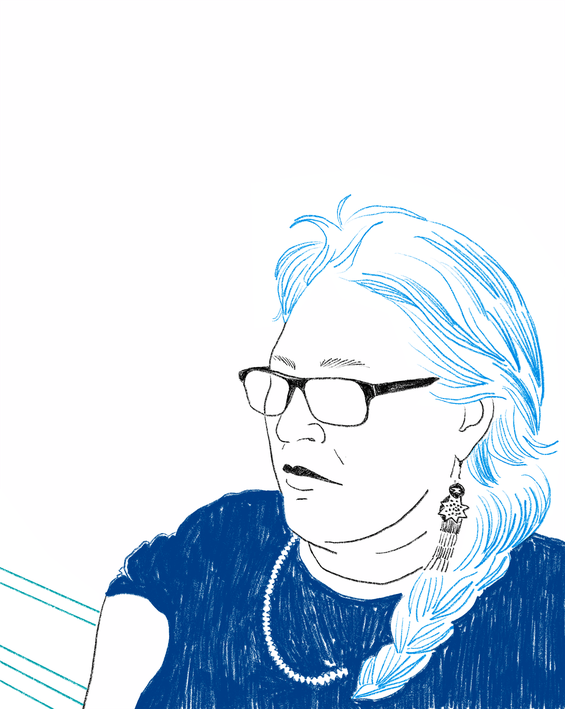 Right: A drawing of Celia Herrera Rodríguez by Sora Won (MFA Design 2022)