Fall 2020 Design Lecture Series
Fall 2020 Design Lecture Series
Event series
Thu, Sep 17 2020, 5PM - Thu, Nov 12 2020, 8PM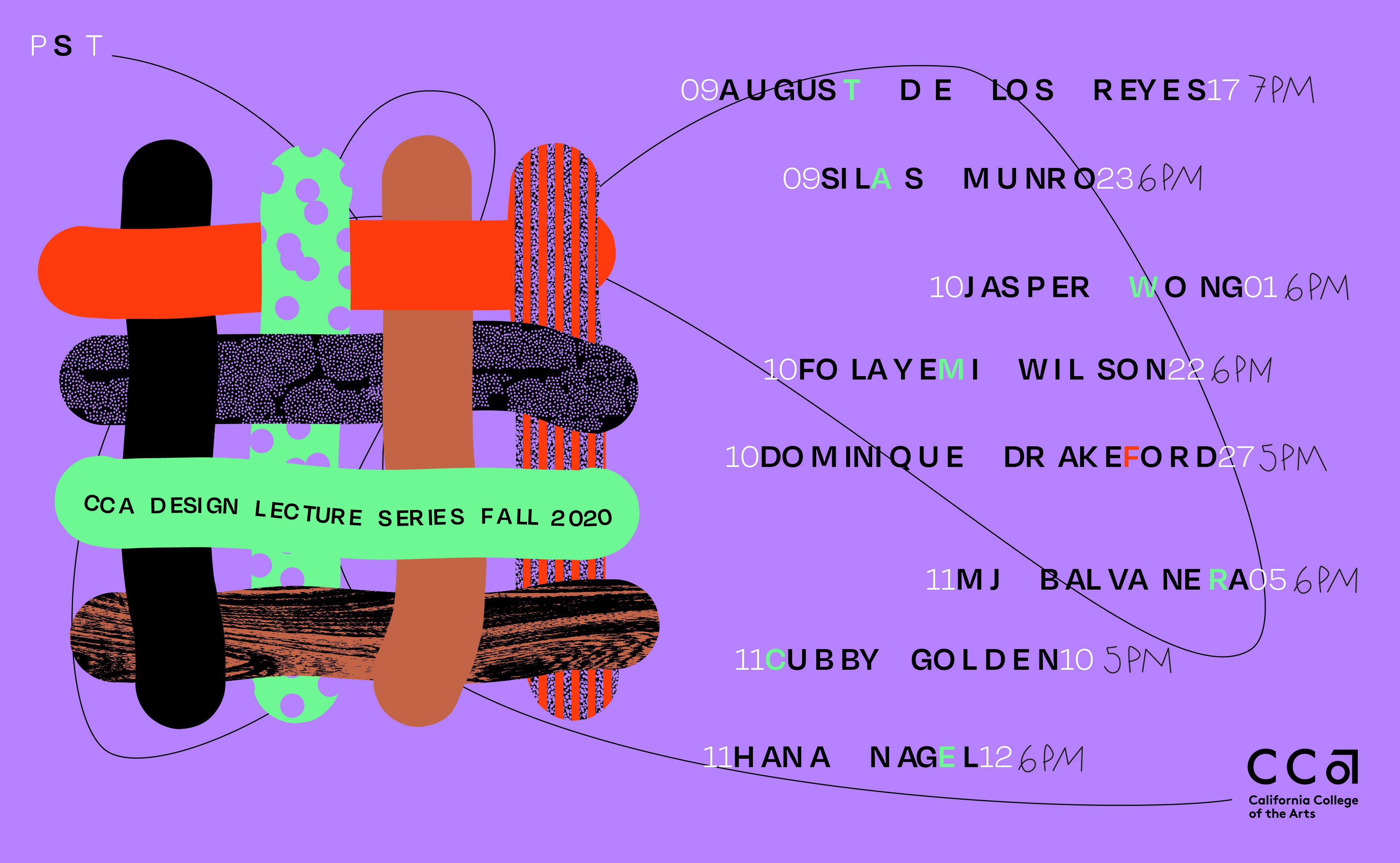 Organized by
The Design Division at CCA
Event description
The Fall Design Lecture series will be presented entirely online and is free and open to the CCA community and the public (by reservation).  We invite all to join us for these critical conversations with leading designers, strategists, curators and educators.   
Our 8 esteemed guests will be addressing how they use design as a tool of empowerment—to defy and overcome the most pressing issues of our time including racial inequality, bias and exclusion;  marginalized communities and practices; environmental catastrophe; and inhumane technological change.
You will learn about inclusive design, ethical AI, practicing with integrity, sustainable fashion, community enrichment, afrofuturism, speculative fiction, and design for social, economic and cultural change.
Lecture recordings will be made available for educational purposes to the CCA community on Panopto
Design Lecture Series Identity Designed by Juan Pablo Rahal
Juan Pablo Rahal is a Brazilian queer graphic designer and performer based in San Francisco CA. Recently graduated from the MFA Design program at California College of the Arts, his work spans a range of efforts and form: from designing books to exhibitions, to performances and brand identity systems. 

"Matriarchy [is defined] by an entirely different conception of life, not based on domination and hierarchies, and respectful of the relational fabric of all life." Arturo Escobar 


For designing the collateral for the Fall Lecture series 2020, I worked through concepts that could somehow represent my idea of what design is, and how I think it should be approached today—against patriarchy. Heavily inspired by the book "Designs for the Pluriverse" by Arturo Escobar, and thinking how to design a decolonized and matriarchal expression of design; I arrived as WEAVING as the concept to start from. Weaving becomes a metaphor for design, its character to weave different voices and mediums, and an opportunity to express each speaker as a thread—and the eight speakers together as a fabric, or CCA Fall Design Lecture Series 2020, and its respective logo. Each of the threads has colors and patterns that somehow represent each of the speakers. The fabric is also used later as a grid, the kerning of the letters is altered (defying the untouchables standards of European Swiss typography), challenging the viewer to stop for a moment to read the text and composition. Along with the fabric, another element throughout the collateral is the SCRIBBLE.  This element also represents design, but in its ability for connectivity: through the scribble, the viewer, reader or player, can connect the different pieces of this puzzle and create by themselves, her/his/their own meanings.
Entry details
RSVP to each event to receive the unique Zoom log-in