Curriculum Page
Curriculum pages can be used to break down program requirements.
---
Undergraduate Programs
Curriculum pages for undergraduate programs often organize information by academic requirement, since course sequence charts (or course guides) already suggest courses by term. Curriculum pages can give students a sense of the types of courses that comprise their degree, such as Humanities + Sciences Requirements, Core Studio Requirements, and Major Requirements. Adding in a link to the program course sequence chart is a great way to point students to that resource as well.
Graduate Programs
Since graduate programs do not have course sequence charts, grad curriculum pages might organize course requirements by semester rather than requirement type. Students may find it helpful to know whether the sequence displayed on a curriculum page is required or suggested.
---
Curriculum pages don't have a specific template (yet), so you can create them as basic pages underneath program landing pages.
Curriculum information works well in tabular form, but different programs may have different needs. Consider using separate tables for each requirement type or term, with subheadings preceding each. Alternatively, you can use the Row header checkbox in the Wagtail table field.
Curriculum page tables commonly have two columns: course title/requirement and number of units.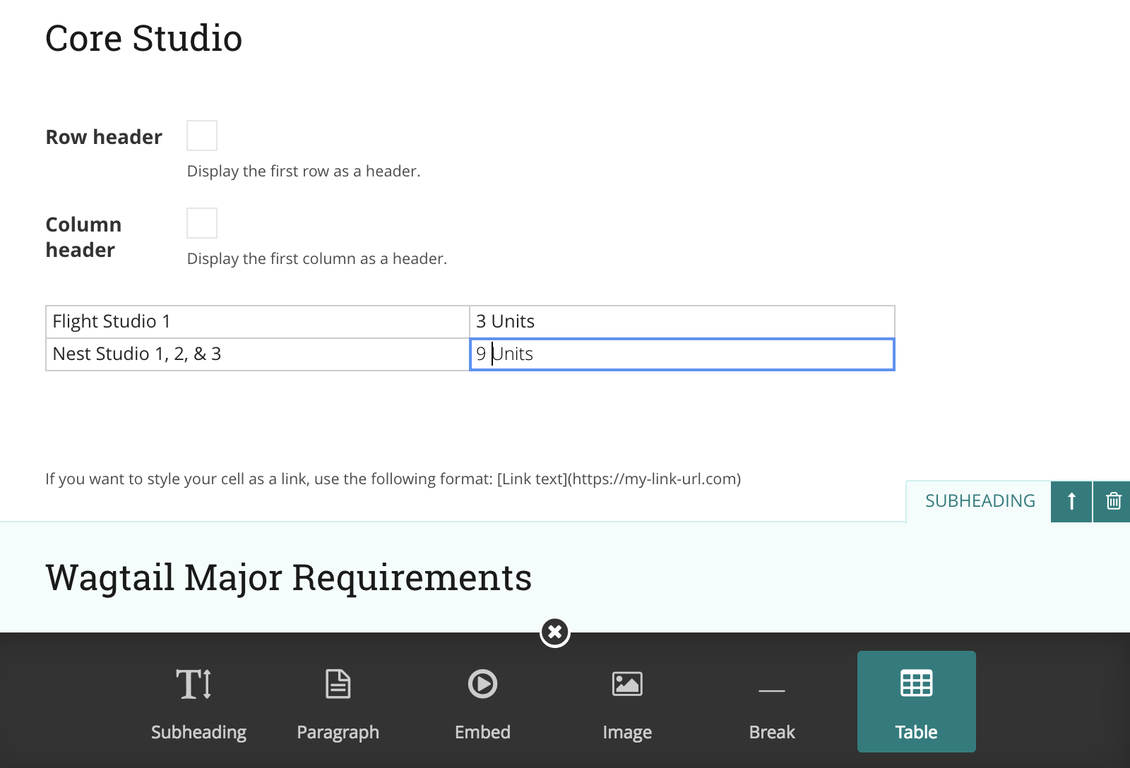 ---
Linking to Related Content
In addition to course sequence charts for undergraduate programs, it might be useful to link to the Portal course catalog as well.
Go to portal.cca.edu/courses.
Select the upcoming semester from the Term dropdown.
Check the appropriate Subject box(es).
Copy the page URL, and insert it as an inline link, a related link, or a sidebar item on your curriculum page.

You can't add a pre-filtered course catalog page as a related page due to how applied filters affect the URL.
At the start of a new term, you'll have to update the course catalog link accordingly.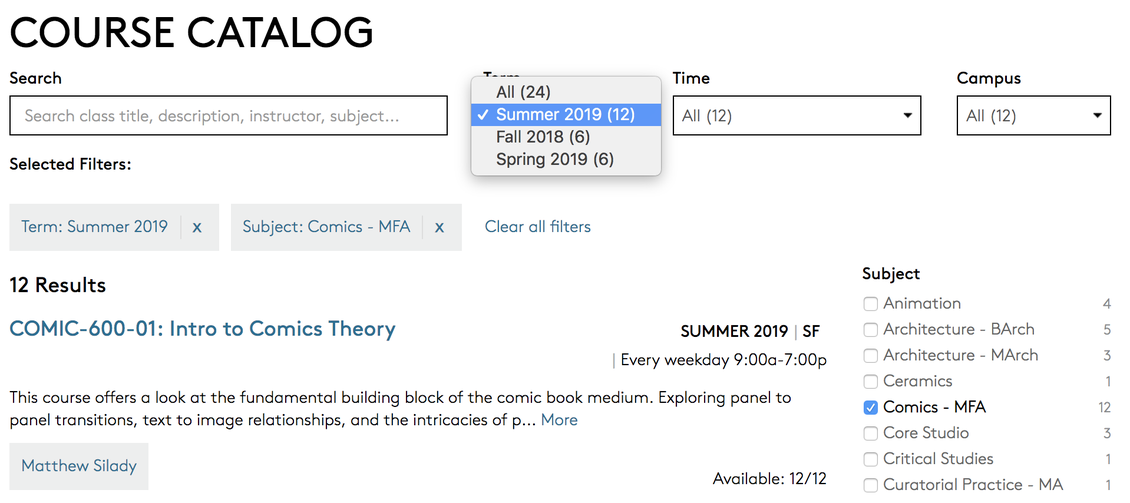 You may want to feature a course catalog link on your program landing page as well (or instead). These choices really depend on the path(s) you want users to take to access this information.
---
Check out some of the other subpages you can build underneath your program landing page.
To help showcase all of the people who make CCA Academic Programs tick, we've built out a special page to feature affiliated leadership, staff, and faculty.
Express the desired learning objectives and growth areas for students in your program.