Editing Grades in Moodle - Faculty
Editing Grades in Moodle - Faculty
The Grader Report is where you can edit, input, and view grades. To access the Grader Report, find the "Grades" link in the navigation menu within your course page.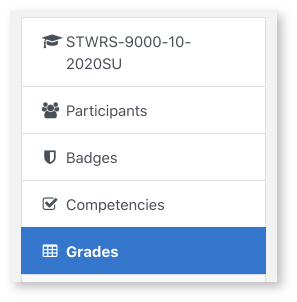 From the grader report, you can see each student's overall grade as well as grades for individual graded activities.
As you add new activities to your course, they are automatically added to the gradebook.
You can grade students' submissions from the grader report, or you can do so from activity pages directly. When you assign grades from an activity page, those grades will automatically update in the gradebook.
Your gradebook setup will determine how you input grades for your course and all the activities therein. You can create grade categories with weights that affect how grades are calculated, and even override a grade after it has been calculated.
---
Available Grading Views/Screens
Assign Grades for an Individual Student
You can assign/edit grades for an individual student by clicking on the pencil icon in the table cell next to their name.
Assign Grades for an Individual Activity
You can assign/edit grades for a specific item or activity as well. Each graded activity appears in its own table column. Click the pencil icon next to the activity you'd like to grade.

Single-Screen Grading
Alternatively, you can enable grading for the entire gradebook all at once by clicking the Turn editing on button.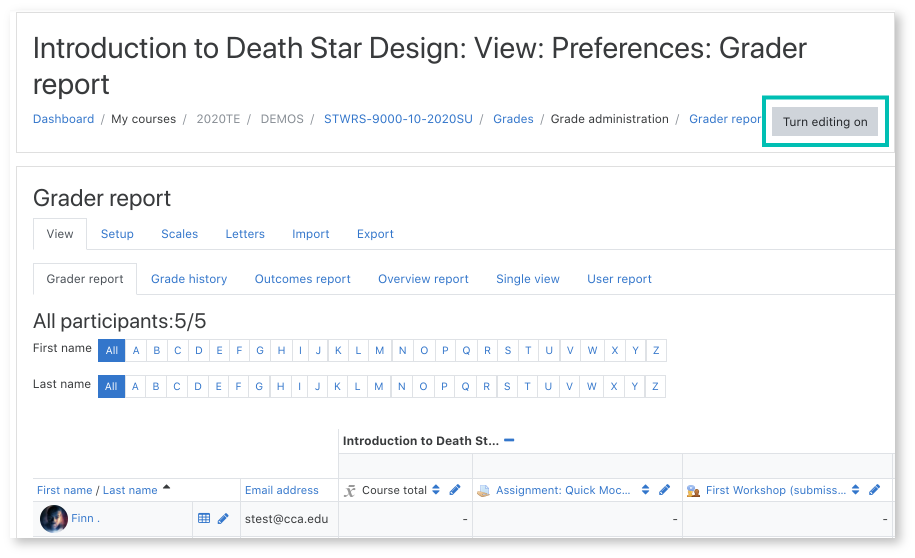 ---
How the Grader Report is Organized (Single-Screen Grading)
Along the top of the grader report are several rows:
First row - Course title
Second row - Grading categories (if being used), each in a separate column
Third row - Graded activities (for example: Assignment, Quiz, Lesson), each in a separate column beneath its associated category
Below these top few rows are rows for each enrolled student.
Uncategorized Activities
Any activities which were left "uncategorised" will appear in an unnamed general category underneath the course-level category. If you choose to use grading categories, make sure all course activities are categorized for more accurate tabulation of grades.
Sorting Individual Activities
You can also sort individual activites by clicking on the up/down arrow icon next to the activity name (to the left of the pencil icon, which will take you to the individual activity grading screen).
Clicking on the arrow icon cycles through different sorting options:
By student (alphabetical order by last name)
Ascending order (highest grade at the bottom)
Descending order (highest grade at the top)
It is also possible to search students by first name and last name.

Filtering by Groups
If you change the course settings Group mode to Visible groups or Separate groups, a drop-down menu will appear in the gradebook to allow you to filter your students by groups. Read more about group visibility here.
---
Entering Grades (Single-Screen Grading)
Once you turn editing on, new icons will appear in the gradebook table columns. You can enter grades in the solid boxes and feedback in the dashed boxes.

Each item in the gradebook has its own settings, indicated by a gear icon (⚙️).
Click on a Moodle activity, indicated by blue hyperlinked text, to view that activity's page, where you can view and grade submissions or change activity settings.
Do not change the total calculation settings for your course or category (such as "Course total" or "Assignments total") as this interferes with the algorithms Moodle uses to calculate grades.
Click Save changes when you've completed entering grades.
Overriding grades
An orange box around a graded item indicates that a grade has been overridden. You can grade a Moodle Activity outside of its activity settings, such as assigning grades without a submission.

You can enable/disable grade overrides from the individual activity and individual student views.
---
Entering "0"s for Empty Grades
Instructors must enter "0"s for missing student submissions or the missing submissions won't be penalized. This is because Moodle will exclude empty grades from grade calculations rather than treating them as "0"s. As instructed above, instructors can manually override grades to enter "0"s for missing grades. Alternatively, instructors can follow the steps below to quickly enter "0"s for empty grades using the "bulk insert" feature in "Single view".
In the target Moodle course, go to "Grades" in the navigation drawer located to the left of the course page.
Click the "Single View" tab.

Select the activity that you want to enter "0"s for using the "Select grade item" drop-down menu

At the bottom of the page, check the "Perform bulk insert" checkbox and leave the default settings the same (i.e. "Empty grades;" 0). This changes all missing/empty grades of the students displayed on this page for this activity/item to 0.
Note: Make sure that the "Items per page" number is large enough to include all of your students. The grades for students not appearing on the page will not be changed.

Click "Save".
The number of updated grades will display. Click "Continue".
Repeat steps 3-6 to batch enter "0"s for other activities if needed.