Gradebook Setup - Faculty
Gradebook Setup - Faculty
"Grades" is your Gradebook
To view and change the settings of your Gradebook, click Grades on the lefthand side of your Moodle course page.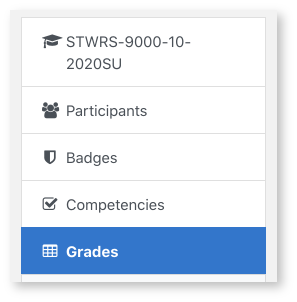 The Grader Report displays by default, showing enrolled students, activities, and any assigned grades. Click on the Setup tab beneath the "Grader report" heading.

---
Gradebook Setup Options
These are the primary gradebook setup options available.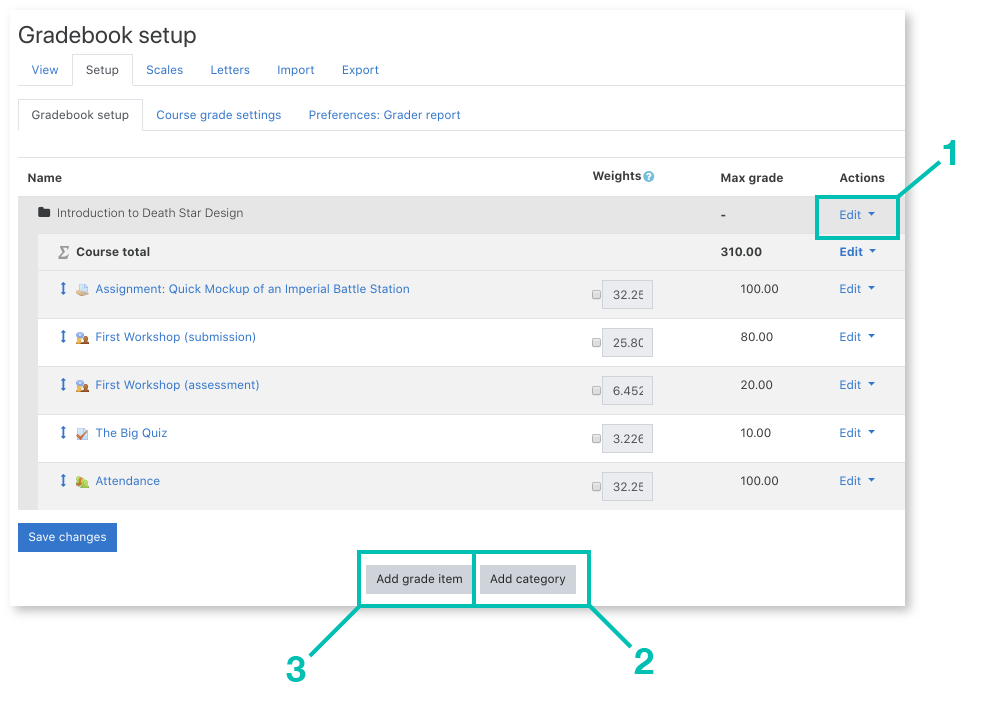 Edit settings (course level grading)
When you Edit settings at the course level category (folder), you can adjust how grades are aggregated for the course as a whole.
Grade categories can be nested within a course, and they each have their own aggregate grade that is calculated from the grade items within. There is no limit to how many grade items can be within a category, but each grade item must belong to a grade category.
Typically, your grade items will be automatically added to the gradebook when you create graded activities in your course. A grade item will need to be added manually to the gradebook when there is no corresponding graded activity in your course. An example might be for tracking participation or when something is going to be completed in class.
Note: You will also see any graded activities you've already added to your Moodle course on your Setup page. You should at least set up your gradebook categories before adding any graded content (activities), if possible. This will save you from having to adjust grading preferences for individual activities later on.
---
Set Grade Aggregation
Set the grade aggregation type. The aggregation is how your gradebook calculates grades. We currently have Weighted Mean, Simple Weighted Mean, and Natural enabled for instructors to use. We recommend using the Weighted Mean of Grades, but you can read more about grade aggregation here.

Save Your Changes
When you're finished adjusting settings for grading on the course level, make sure to click the Save changes button to retain any adjustments and return to the Gradebook setup screen.

---
Create Grading Categories (If Needed)
You can create a grading category by clicking the Add category button on the Gradebook setup page.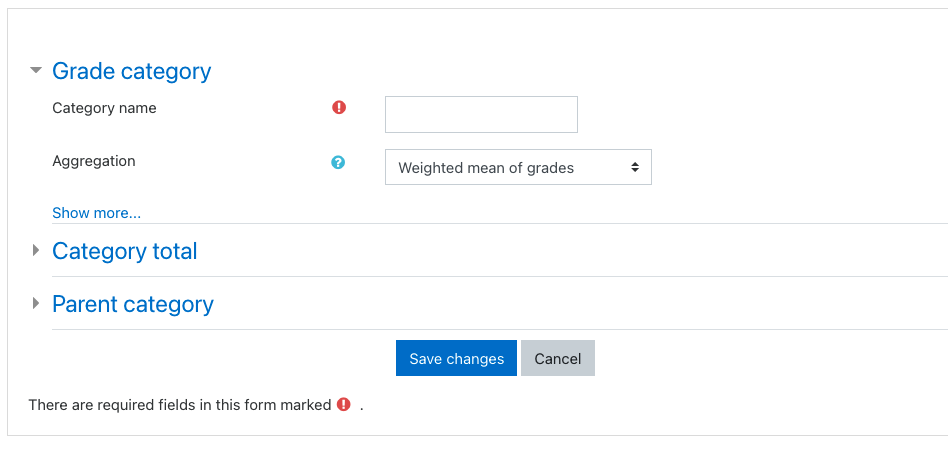 Be sure to change the default 0.0 weight for your category to match your syllabus. As long as your total course gradebook is calculating based on 100 points, you can think of the category weights as percentages, most likely as you have stated on your syllabus. For example, if Assignments are worth 60% of the overall grade, you would change your Assignments Category weight to 60.

Note: If you decide to use grading categories for your Moodle course, make sure that each activity you add to your course is moved into a category! The sections below will walk you through how to do this.
---
Assign the Grade Category to an Activity
Once you have set up your gradebook (setting course-level grade aggregation and creating your categories) you can start creating assignments (known in Moodle as activities). When you create an activity, you can select the desired grade category, and those grade settings will be applied accordingly.

---
Moving Activities and Grade Categories
You can also reorganize existing activities, grade items, and grade categories from the Gradebook setup page. An up/down arrow displays on the left side of any activity, graded item, or grading category. Click the arrow icon next to the item you wish to move.

The screen will update to show all of the available "slots" where you can move the selected item. Each of these "slots" is marked by a right-arrow and dotted-line box. Slots within categories will be indented in line with the category titles.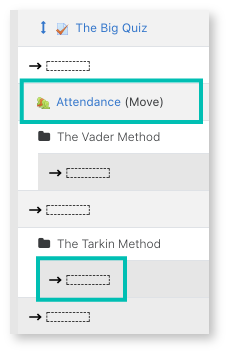 If you would like to move several items at once, select the boxes to the far right of your items, and then find the prompt at the bottom of the page that says, "Move selected items to" and then choose the category where you want to move the items.

Once you have set up the basic settings for gradebook and added some activities to your course, it's time to revisit the gradebook and prepare it to be shared with your students. Visit the Assign Weights to Grade Categories and Grade Items page to set the weights for individual items and grade categories.