Spring 2021 Move In Dates
January 23, 2020 (full spring term)
March 06, 2020 (partial term)
Move in appointments are required, these will be communicated out to residents via email.
For any questions or concerns about move in please contact us at resed@cca.edu.
---
FOUNDER'S HALL SAFE MOVE IN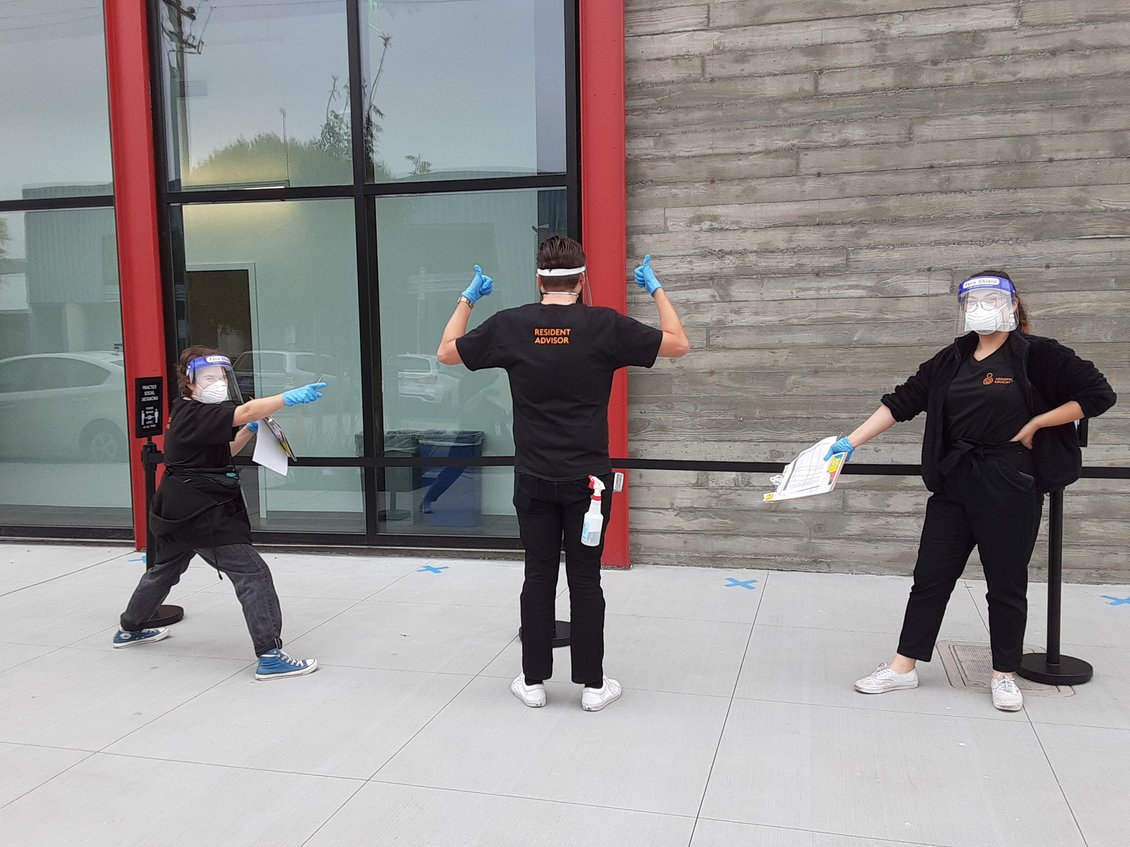 ---
COVID-19 Safety Precautions
Please wear an appropriate face covering (your nose and mouth should be completely covered at all times).
We ask that everyone abides by physical distancing guidelines by remaining at least 6 feet away from others during the move-in process.
During the physical moving of your items into the hall, the college is only allowing a total of 3 people (the student & 2 guests) inside the building. A maximum number of 2 people can be in the elevator at one time, so guests will be asked to take the stairs up to the 5th floor (unless they are physically unable).
Your guests will be allowed to help you unpack and stay with you for up to 3 hours maximum, after which point they will need to leave the building.
Should you need any accommodations due to a disability or compromised health condition please email to resed@cca.edu by August 15th so that we can make appropriate accommodations.
---
Move-In Process
A staff member will greet you curbside at your vehicle to provide you with further instructions and to explain the check-in stations and process. At that time, a staff member will bring you a cart to move your belongings to your room. Only one trip will be allowed up the elevator so please pack lightly.
You can use the cart to move your belongings from your parked vehicle into your assigned space. NOTE: the driver of the vehicle will be asked to move the vehicle from the loading zone immediately after your items are moved to the cart. You are also welcome to bring your own moving materials. However, please keep in mind that there will be only one trip up to your room.
During the physical moving of your items into the hall, the college is only allowing a total of 2 people (the student & 1 guest) inside the building. Other members of the student's family/friends will be allowed into the hall to see the student's room and help them unpack; however, those individuals will need to use the stairs and will be limited to designated hours.
Should you need any accommodations due to a disability please email resed@cca.edu by August 15th so that we can plan accordingly.
Once inside the building, a staff member will check you in using the online system and you will be provided with keys to the building as well as your assigned space.
There will be staff members present at each elevator on each floor to ensure physical distance and assist with navigation to your assigned space; they will also bring the cart back to the ground floor for the next student who is moving in.
---
Location: Founder's Hall Front Desk, 188 Hooper Street, San Francisco, CA 94107
There is a loading zone marked with a white painted curb outside of the main entrance doors on Carolina Street. Unloading here is allowed for a maximum of 5 minutes, then the car must be moved. Loading zones are reserved for unloading only, then cars need to be moved. Please obey all parking and traffic signs, and pay meters if necessary. Parking is much easier to find on weekends, if arriving on a weekday, be aware that all cars may get towed. There is not a parking lot or a parking area for the building.
---
***NO MAIL OR PACKAGES WILL BE ACCEPTED UNTIL AFTER THE MOVE-IN DATE
Mailing address for Founder's Hall Residences:
First Last Name
188 Hooper St [room number]
San Francisco, CA 94107
-
All USPS mail will be delivered to the Luxer One system located in the East wing of the 1st Floor.
-
For FedEx, UPS, DHL, OnTrack or any other delivery service, deliveries will be placed in the Luxor One parcel service located in the West wing of the building, in the main lobby. There is a fee for this service. Students must sign up for this parcel delivery service upon move into Founder's. Residents will then be able to pick up their packages after being notified through email. If Founder's residents want to avoid this fee, they should have their packages held on site at a delivery service's location.
---
---
| Item | Founders | Founders (with Kitchenette) |
| --- | --- | --- |
| Twin XL Bedding (sheets, matress pad, blanket, pillows & pillow cases, etc.) | ✅ | ✅ |
| Personal Toiletries (soap, toilet paper, shampoo, etc.) | ✅ | ✅ |
| Towels | ✅ | ✅ |
| Laundry detergent & basket/bag | ✅ | ✅ |
| Clothes Hangers | ✅ | ✅ |
| *Power Strip/Surge Protector(s) | ✅ | ✅ |
| Mask/Face Covering | ✅ | ✅ |
| Magnetic Pots/Pans | ❌ | ✅ |
| Cookware | ❌ | ✅ |
| Personal Cutlery | ✅ | ✅ |
| Shower Curtain (provided) | ❌ | ❌ |
| Trash/recycling/compost bins (provided | ❌ | ❌ |
| Recommended Items: | Optional Items: |
| --- | --- |
| *Reusable Water Bottle | Small fan |
| *Reusable Shopping Bags | Alarm clock |
| Closet & desk organizers | Hair dryer/Curling iron |
| Room decor | TV/DVD player - if space is available |
| Disinfectant Materials (Clorox Wipes, etc.) | Outdoor Picnic Blanket |
| N95 Mask for California's Fire Season | |
| Earthquake Kit | |
| First Aid Kit | |
| Handheld vaccum | |
| Swiffer | |
| Broom & dust pan | |
| Photo ID/ Passport/ Credit or debit card | |
| Lamp (for the area near your bed) | |
Note: Due to COVID-19 physical distancing guidelines, the common areas of Founder's Hall will be closed until further notice. This closes access to community microwaves on each floor. Because of this, residents moving in for Spring 2021 will be provided with a microwave in their unit.
Pets (with the exception of fish in a 5 gallon tank or smaller or service animals)
Hazards to fire and safety, such as space heaters, any open coil elements, halogen lamps, incense, candles, etc.
Heat producing kitchen appliances , including but not limited to the following, are not permitted: Hot plates, toasters, toaster ovens, electric hamburger cookers, waffle irons, ceramic sealed hot plates, hot plates with exposed coils, deep fryers, and countertop electric grills without flames (e.g., "George Foreman " grills.)
If you are unsure whether or not an appliance is allowed, please contact ResEd@cca.edu