Here you'll find some frequently asked questions about Moodle. You can click a question from the list below to jump directly to it on the page. If you find that your question isn't answered here, or is a little more specific, please contact the Help Desk by emailing helpdesk@cca.edu.
---
I'm enrolled in a course, but it's not showing on my dashboard. Where is it?
It's possible your instructor has not yet made the class visible for students. If they are using Moodle for their course, they will have to change this setting before you can see the class. If your instructor has sent you a message saying the course should be visible, you may check your courses by changing the view filter on your Course Overview to "all." Alternatively, you can click on your avatar in the upper right-hand corner to locate your Profile. All of your unhidden classes should be visible in your Moodle Profile. If you've just recently enrolled in the course, changes from Workday can take up to 24 hours to be reflected in Moodle.
---
I can see my course, but why doesn't it show up on the left side navigation drawer?
The list of courses in the navigation drawer on the left side is automatically populated by any visible courses that are "in progress," meaning any courses that have a start date after the current date will not appear. They will also disappear if the course's end date passes. To locate any classes not appearing in the navigation drawer, you can view your Moodle Profile by clicking on your avatar in the upper right hand corner of moodle.cca.edu.
---
Why can't I access a Moodle course that everyone else can?
If you recently enrolled in a class, it may take up to 24 hours for that enrollment data to synchronize between Workday and Moodle. After this period if you're still having trouble with access, contact your instructor or the Help Desk at helpdesk@cca.edu for further assistance.
---
Where did my old classes go?
Once the semester is over, your course may be located in your Course Overview block (below the announcements on the dashboard). You may need to adjust your view filter to "all" or "past" to locate any courses where the end date has passed. Alternatively, all your unhidden courses may be accessible through your Moodle profile. An instructor may have chosen to hide the class, however. If you need to access old documents or uploads from a previous course that is no longer visible, you should talk to the instructor to help make the class visible again.
---
What web browsers does Moodle support?
Moodle supports most major, modern web browsers, as described in our version's release notes here. We recommend the latest version of Google Chrome or Mozilla Firefox, however. There have been sporadic problems reported with using Moodle in Safari, the default Mac OS browser.
---
How do I stop my camera phone images from causing errors?
New iOS (iPhone, iPad) devices may default to saving images in a new HEIF/HEIC format which is incompatible with Moodle's grading module that converts images to PDFs so that your instructor can annotate them. This problem often manifests itself in errors that appear in the gradebook saying "Cannot open the PDF. The file may be corrupt or in an unsupported format." If your instructor reports problems like that, chances are your HEIF images are causing problems.
There are several solutions to this problem:
Tell iOS to save images in a compatible format. Go to Settings > Camera > Formats and choosing Most compatible instead of High Efficiency.
Tell iOS to convert your images before you share them. Go to Settings > Photos > Transfer to Mac of PC > choose "Automatic" instead of "Keep Originals". Note that this will not work if you're using AirDrop to transfer your photos from your phone to your laptop. But if you email them to yourself, the photos will be converted before being sent over email.
Convert the images yourself. For instance, open an image in Preview, select File > Export and then choose a compatible image format (PNG, JPEG) instead of HEIC. All image editing applications should have the capability to convert High Efficiency images into PNG or JPEG.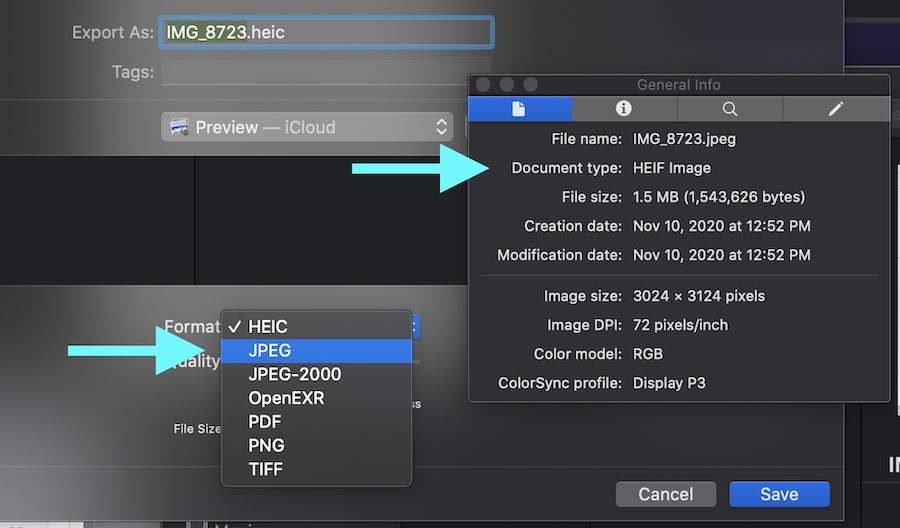 ---
How long do I have access to my old courses?