Activities and Assignments in Moodle - Faculty
Activities and Assignments in Moodle - Faculty
---
Activities are actionable activities (Assignments, Quizzes, etc.) that can be added to your course page. A student is generally required to interact with, take action on, or contribute directly to any Moodle activity. Activities are generally configurable for different use cases/preferences.
Once the categories in your gradebook is set up, you can add activities and resources to your course. Adding content to a specific section is similar to adding content to the General section:
1. Make sure you have editing enabled.
2. Scroll down to the section to which you'd like to add content.
3. Click the Add an activity or resource link below that session.

4. Browse the list of available activities and resources. You can see which activities and resources we recommend you start with and you can "star" the ones you like for easy access.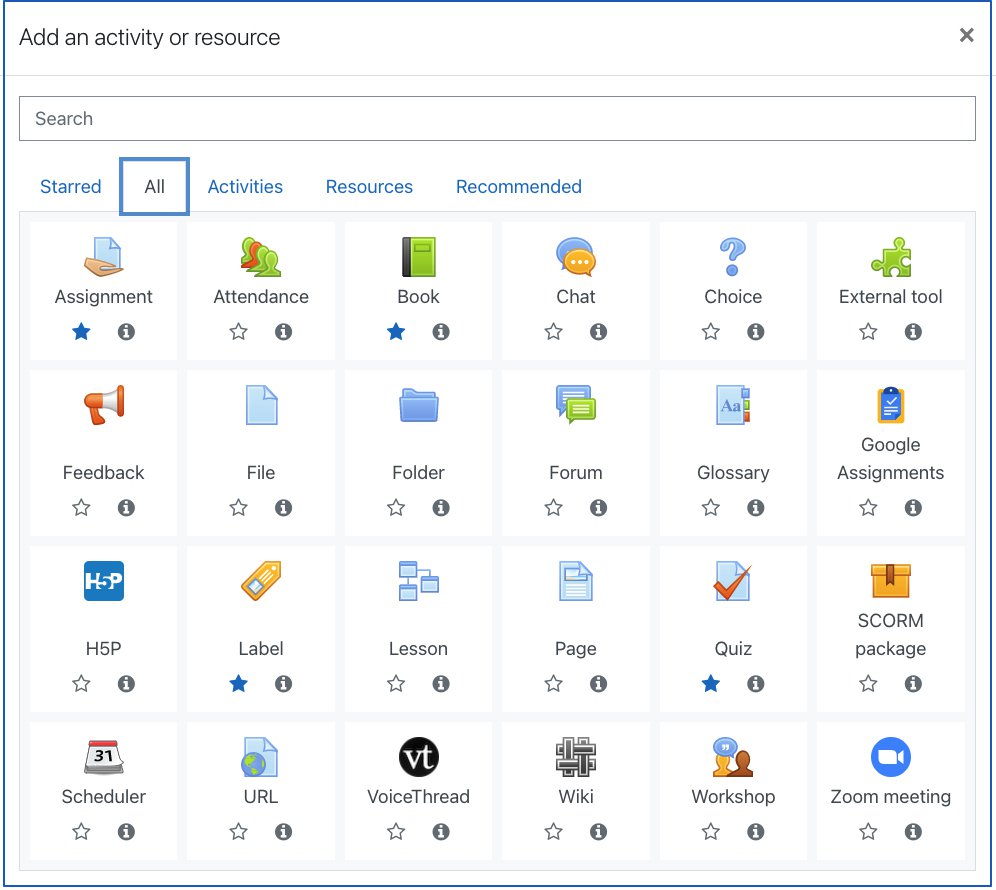 5. Select an activity
Details on the selected activity (what is is and how you can use it) appear once you click the "i" info icon. Even more information can be found by clicking the more help link at the bottom of the popup window.
6. Click Add when you're ready to proceed.
7. On the resulting screen(s), fill out required information for the new activity or resource.
8. Click Save and display to preview the new activity/resource or Save and return to course to go back to the course page.

9. Repeat the steps above for any other activities you want to add.


---
Alongside the editing functions by which you can update or remove an existing activity, there is a silhouette icon, which indicates group visibility settings. There are a few such settings you may select from:


| | |
| --- | --- |
| No groups | The default setting, this indicates that an activity is not set up for groups. Students can submit work individually and are graded individually as well. |
| Separate groups | Only students belonging to a particular group can view and submit work to this activity. Students in other groups will not be able to access or view this activity |
| Visible groups | Only students belonging to a particular group can submit work to this activity, however any student regardless of group can view the activity. |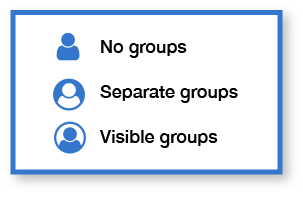 Note: These icons only appear for Moodle activities.
---
You can click on any activity listed below to see a more detailed description, as well as help on creation, settings, and use.
| | |
| --- | --- |
| Choice | A way for an instructor to ask a single question where students have multiple results to choose from. Good for simple polling. |
| Lesson | Lesson differs from Quiz in that the path the student takes in the activity can be dependent on the answer they choose. Instructors can also make certain requirements within the lesson, such as watching a video or reading specific content, before students can proceed to the next section. |
| Workshop | It is a peer assessment activity that allows students to submit either file attachments and/or online text for other students to review. Students receive a grade for the work they submit and a separate grade for reviewing other work. It's a difficult tool to set up because there are so many settings, options, and moving parts. You can create a very similar activity with Moodle Forum, and even VoiceThread, or MURAL. |
---