Getting Started Building a Course in Moodle - Faculty
Getting Started Building a Course in Moodle - Faculty
The shell for each course starts out fairly plain, but by using Moodle's many tools you can customize your course page to suit the needs of your class. Look at the links below to get started customizing your course page.
Faculty are encouraged to follow these steps in order for the easiest and most efficient Moodle course setup.
---
Steps to set course format
1. Click the gear icon ⚙️ in the course title header (upper right corner of the screen).
2. Select Edit Settings.

3. Click on Course format to expand all format options.
4. Select the desired format from the Format dropdown (see description of options below).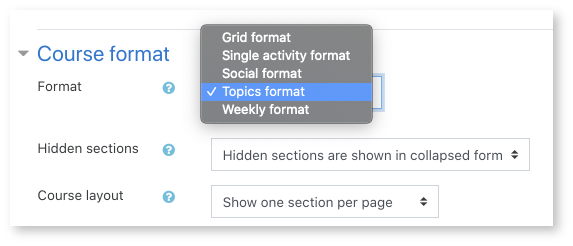 5. Adjust other fields as desired.
6. Scroll down to the bottom of the screen, then select Save and display.

Course format options
This option changes how your course is organized. Collapsed Topics Format is the default, but a course may have a different format due to program or course templates. There are other formats available as well, and instructors may choose to change this format to suit their course needs:

Collapsed Topics Format (Default)
Collapsed Topics format allows instructors and students to choose whether to open or collapse sections of Moodle so that they can focus on certain sections. Unless browser cookies are deleted, Moodle will remember the user's selections when they revisit Moodle.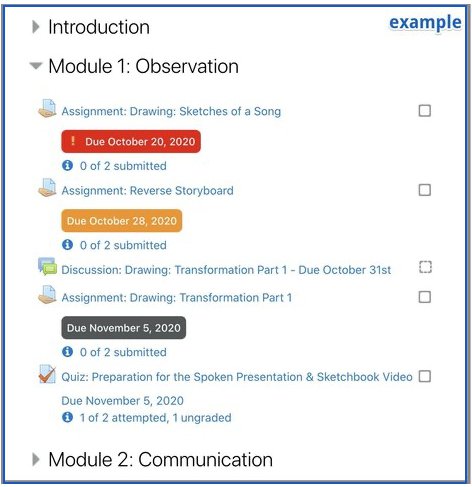 Topics Format
The topics format is useful for courses that only have a few major units for the entirety of the class. This lets you create topic sections that are independent of class start/end dates, and organize your materials based on those sections. You can create as many or as few as you'd like.

Weekly Format
In the weekly format, the first date will match the "Course Start Date" in your course settings (see steps above). Moodle will automatically create and label sections with one week increases between each. Note that you will only have as many sections as you defined in the Course Settings, even if your course end date is later than the last section.

Grid Format
The grid format is growing in popularity at CCA due to its more visual nature. Sections are indicated through image cards. A student must click on the image to access the section. The content looks the same, although it pops up into a new screen and can cause some confusion once a student drills down into an activity. It's not always clear how to "get back" to where they were previously. As long as students are shown how to navigate this format, it can add a level of design to your Moodle course.
---
In order to make changes to your course page, you usually must first turn on editing capabilities. To do this:
1. Click the gear icon ⚙️ in the course title header (upper right corner of the screen).
2. Select Turn editing on from the dropdown menu.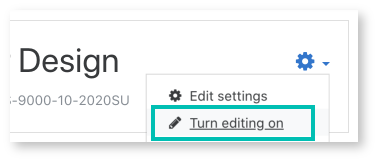 ---
Add syllabus and other key content
Each topic/session in your course provides the option to Add an activity or resource, as does the General section at the top of the page. You can add key, overarching content to your Moodle course—such as a syllabus—to the General section. This content will display at the top of your course page, as well as within each individual topic/session page.
Steps to add general content
After you have enabled editing:
1. Click Add an activity or resource (near the top of the page).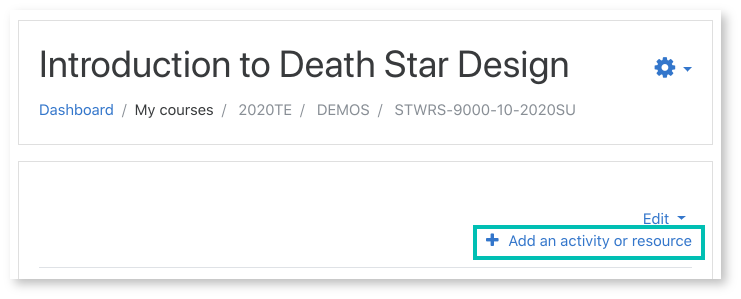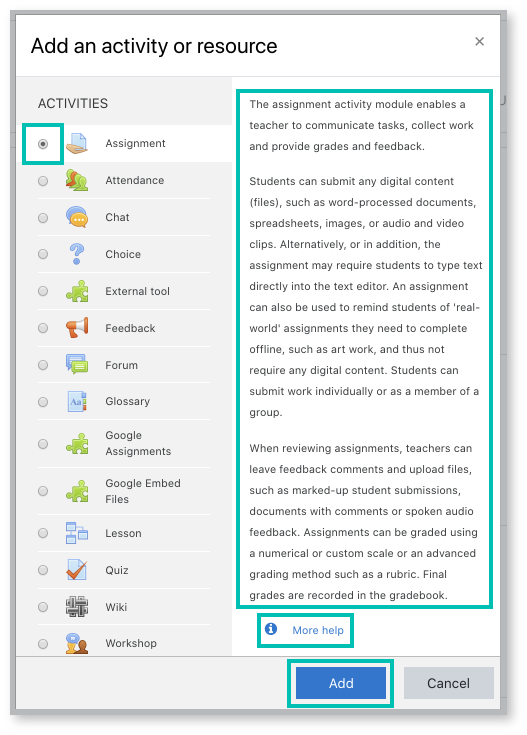 2. Browse the list of available activities and resources on the left.
3. Select an activity or resource.
Details on the selected activity (what it is and how you can use it) appear on the right. Even more information can be found by clicking the more help link at the bottom of the popup window.
4. Click Add when you're ready to proceed.
5. On the resulting screen(s), fill out required information for the new activity or resource.
6. Click Save and display to preview the new activity/resource or Save and return to course to go back to the course page.

7. Repeat the steps above for any other activities or resources you want to add.
---
Before adding any graded activities for your Moodle course, you should set up your gradebook. You can also watch this video tutorial on setting up your Moodle gradebook. The gradebook collects grades from every activity in your course. As you add new activities to your course, their possible point values are automatically added to the course gradebook. The gradebook automatically updates when you assign grades for those activities.
Set up your gradebook before adding activities to your course, even if you haven't planned out all of your assignments yet! This will save you time adjusting the grade settings for each activity later on.
---
Add activities and resources
---
All courses created in Moodle default to being hidden from students. This way, instructors can begin adding content and organizing their course without having to worry whether their students will interact with assignments before they're ready.

Follow these instructions for unhiding courses (or hiding them later).