Transfer and Second-Degree Orientation
Transfer and Second-Degree Orientation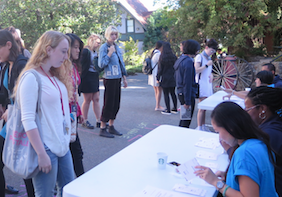 Welcome to California College of the Arts!
CCA has an established tradition of serving transfer and second-degree students. You bring rich scholastic and life experiences to your education, and that in turn contributes much to the CCA community.
The beginning of your journey as a CCA student is approaching quickly. With great anticipation, your families, friends, and campus community are preparing to support and welcome you as you begin your journey.
Use this checklist to ensure you start orientation on the right foot.
2022 Fall New Student Orientation (Online)
New Student Orientation will be online in response to the COVID-19 pandemic. Completion of the online new student orientation is required prior to the start of the semester. Incoming students will receive an email with log-in information.
---
Steps to Ensure a Successful Orientation
Step 1: Review CCA's Undergraduate Enrollment Checklist
Step 2: Get Registered
Step 3: Determine Writing Course Placement and Submit Additional Portfolios for Review
Step 4: Read Student & Program Technology Requirements
Step 5: Determine Health Insurance Eligibility
Step 6: Read the Student Handbook
Step 7: Follow Student Council on Facebook and Instagram