Enter in the goals you would like to work on for the next year within your job. Please check the SMART Goals page for more information on creating goals or view the Goal Setting Webinar.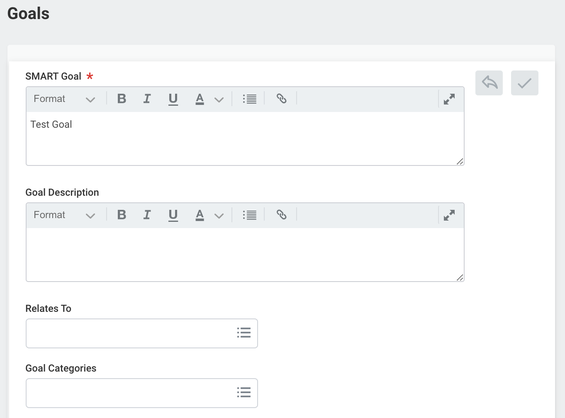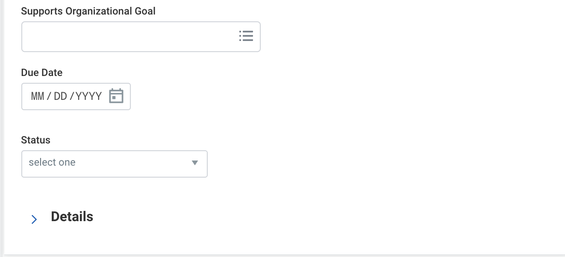 1) Enter a brief name for the goal in SMART Goal.

2) Enter the Goal Description.

3) Select the CCA competency that best aligns with your goal under Relates To.
4) Select the Goal Category that most closely matches your goal.
5) Select the organizational goal that best aligns with your goal under Supports Organizational Goal. This year, we have included a value statement around diversity, equity and inclusion.

6) Enter a Due Date (optional).

7) Select the Status to indicate whether or not you have completed the goal.

8) Click Add to add another goal.

Note: Use existing goal is only helpful if you already have goals entered in Workday.
Any inactive goal category will need to be updated with an active goal category before the goal can be submitted.


---
Linking to CCA's Organizational Goal
This year, CCA will have a value statement focused on Diversity, Equity and Inclusion. This statement can be found under the Supports Organizational Goal field. Below are more details about this statement:
As an educational and cultural institution, CCA has a responsibility to provide access and opportunities for all people, with special attention to supporting groups historically underrepresented in higher education. We believe that a culturally diverse and inclusive campus is integral to academic excellence, and our student, faculty, staff, and trustee bodies should reflect the diverse world in which we live, with attention to race, ethnicity, religious creed, national origin, age, sex, sexual orientation, gender identity or expression, and ability.
Further details on how CCA defines diversity, Cultural Literacy, Cultural Fluency, and Cultural + Social Diversity can be found here.
---