Fall 2021 Design Lecture Series
Fall 2021 Design Lecture Series
Event series
Wed, Sep 22 2021, 2PM - Thu, Nov 4 2021, 8:30PM
Zoom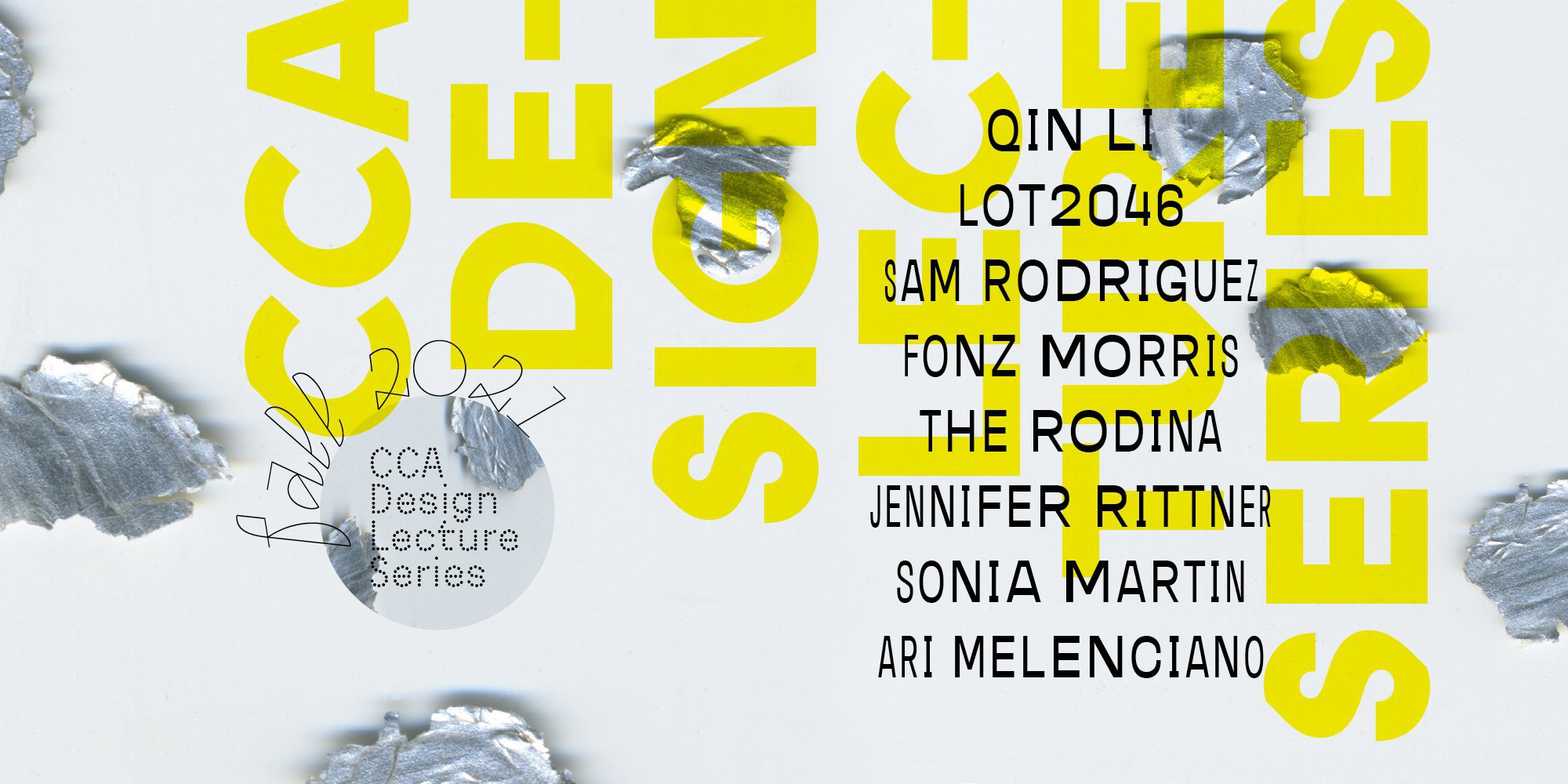 Organized by
The Design Division
Event description
Lecture recordings will be made available for educational purposes to the CCA community on Panopto.


The Design Lecture Series reflects CCA Design's commitment to being a sanctuary for emerging voices and diverse practices. Each semester we host a powerful slate of thinkers and practitioners who expand our idea of what design is and what design can do.
For Fall 2021, our speakers represent a multitude of disciplines, nationalities, and life experiences, but many of their concerns are shared: rejecting the myth of the lone visionary designer, demanding equity in the workplace, and fostering a creative culture that reflects our complex world. We hope you'll join us for one, or all of these critical conversations.
- James Yu, CCA Design Staff
Design Lecture Series Identity Designed by Ana Llorente
Ana Llorente is a Cuban-Venezuelan designer and educator living and working in the land of the Pomo people, otherwise known as Ukiah, California. With over 20 years of combined experience in graphic design, experiential design, and education, Ana teaches graduate and undergraduate courses at California College of the Arts, Otis College of Art and Design, and Minneapolis College of Art and Design. Her studio practice sees the occasional design project, but for the most part, she focuses on visual experiments using readily available materials, learning to work with leather, watercolors, and researching Cuban graphic design and history. In her spare time, Ana enjoys and cares for 10 chickens, 4 ducks, 2 dogs, 1 feral cat and a half-blind pigeon.

Walking to the Piano
"Walk to the piano everyday, doesn't matter what you do when you get there, as long as you walk to the piano."
Since March 2020, a daily voluntary or sometimes forced visit to the studio (despite any pressure or lack of it, unsure which is better!) led to relief from the unrelenting challenges of a bear of a year. The 126-step commute continues to be a blessing filled with revelations. Nature's leftovers, slated to compost and become memory, are now treasured and archived, reminders of a life well lived. Uncontrollable habits reveal beautiful remnants that are documented simply because. Being pulled this way, and that way, and every other way settles in grounding and calmness by the beauty of these remnants. They are reminders of resilience, endurance, loss and ultimately, possibility.
Entry details
Please RSVP for each event to receive a unique Zoom link