Spring 2021 Design Lecture Series
Spring 2021 Design Lecture Series
Event series
Wed, Feb 3 2021, 6PM - Thu, Mar 18 2021, 7PM
Zoom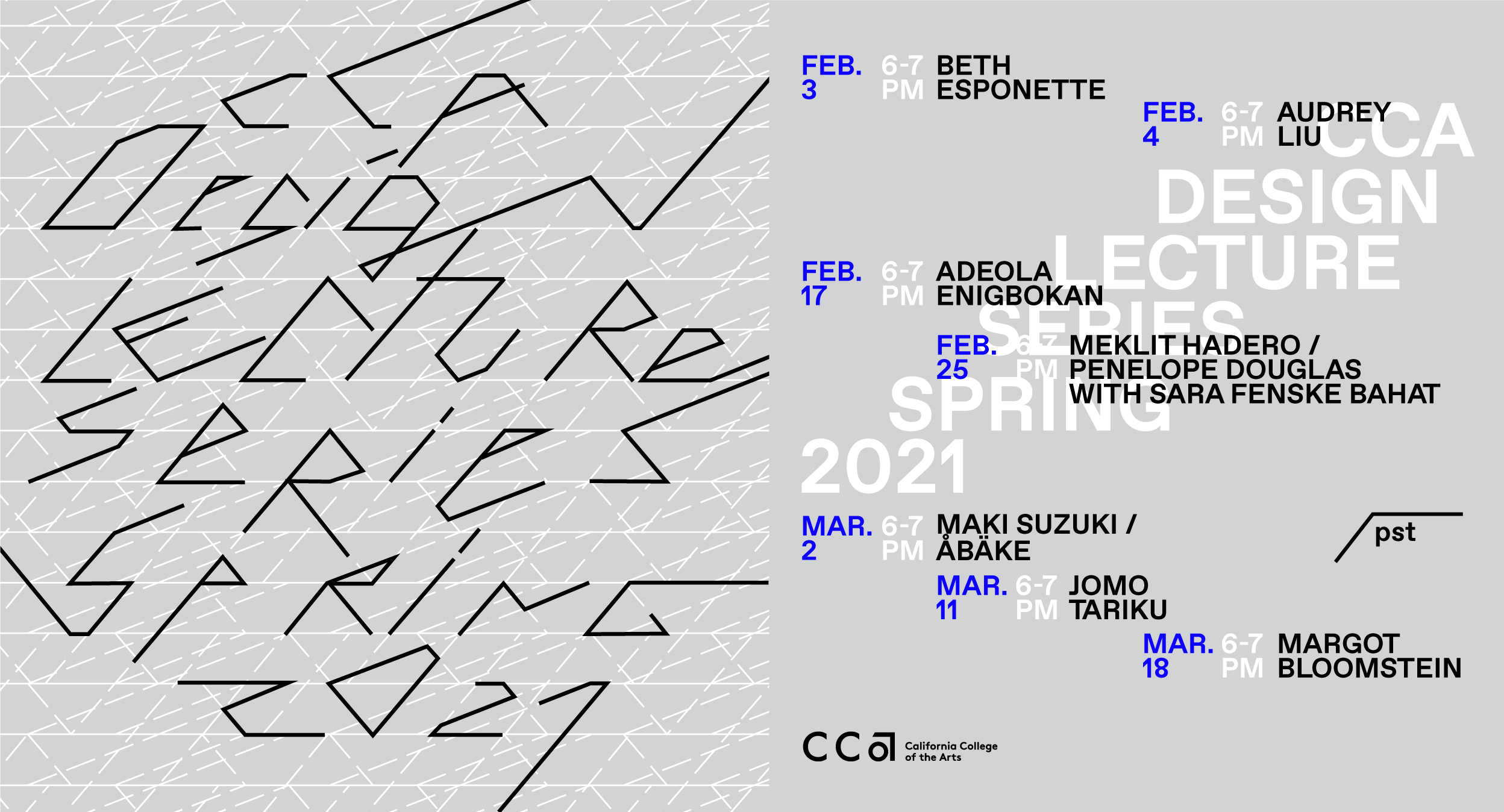 Organized by
The Design Division
Event description
Lecture recordings will be made available for educational purposes to the CCA community on Panopto.
Closed Captioning will be available by AI live transcription for each event. The lecture uses a slide presentation. All content from the slides will be read aloud or described.
For the Spring 2021 Design Lecture Series, we are visited by seven excellent speakers that comprise the exciting, interdisciplinary lineup. Beth Esponnette from unspun speaks to intentional, custom, and circular fashion models. Audrey Liu of Lyft discusses the power of optimism in design and her path as a woman of color in tech. Adeola Enigbokan presents on designing and implementing a trust protocol. Meklit Hadero and Penelope Douglas join DMBA Chair Sara Fenske Bahat in conversation about YBCA's transformative work of investing in artists. Maki Suzuki introduces the work of the Abake collective and their exhibition on mirrors, duplication, and fiction. Jomo Tariku shares his personal perspective and experience designing African furniture. Finally, Margot Bloomstein walks us through building empowerment to get to trust in brand identity development.


Join us for these events, from all of your studios, kitchens, couches, and offices. Through our challenges, we have created networks, built interactions, brought speakers, and asked questions. Challenge is part of the fabric of our craft. We're ready for the new year and we're sure you are, too. Let's do it together.
- Saraleah Fordyce, CCA Design Is Writer and Faculty 
Design Lecture Series Identity Designed by Alejandra Valenzuela
Alejandra (MFA Design, 2015) is a Chilean graphic designer for the arts and culture + self generated art projects and publications. Alejandra addresses the field of graphic construction and language, reinterpreting forms, definitions and methodologies into concept-didactic exercises. 
* THE ELECTRICITY OF THE IDEA *
Rays, dots, stitches and all sensations / connections generated when creating.