Fine Arts: Fine Arts, MFA
About
---
Expand your creative practice
The graduate program in Fine Arts attracts an international cohort of emerging artists to work with renowned faculty and distinguished visitors in the culturally diverse San Francisco Bay Area. Positioned within one of the top art and design colleges in the country, the two-year MFA program is characterized by a culture of critique, studio making, and social engagement. The program supports interdisciplinary practices across a variety of artistic mediums and discourses. The degree is in Fine Art, rather than in a specific medium, and students work across a broad range of forms including painting, sculpture, photography, print media, moving image, social practice, and installation. The program provides its students with the community, intellectual tools, and hands-on experience to meaningfully participate in a wide range of contemporary art contexts, both during the course of study and after graduation.
---
Study in the culturally diverse Bay Area
Known for its long history of political activism and radical thinking, the Bay Area remains an epicenter of diverse and socially progressive ways of making art and imagining creative participation. Located in the heart of San Francisco, the graduate program in Fine Arts is part of an extraordinary ecosystem of art institutions—from alternative artist-run venues, to nonprofit and commercial galleries and major museums, including the college's own premier exhibition space, the CCA Wattis Institute for Contemporary Arts. The curriculum is designed to encourage students to engage these resources and communities, exploring the opportunities afforded outside the studio and seminar room walls.
Immerse yourself in an artistic community
Every full-time, in-residence MFA student making satisfactory academic progress is provided studio space in which to work. The program's graduate studios are located just south of CCA's San Francisco campus in the Dogpatch neighborhood, home to a vibrant network of artist spaces and cultural institutions. The Dogpatch graduate complex is home to the Graduate Program and features individual and shared studios, installation and critique spaces, communal meeting areas, and a wide range of manual and digital tools to support work and creative growth in all artistic forms. All studio assignments require a signed studio contract and deposit.
Note: studio space is provided to Dual Degree Students in MFA Fine Arts and MA Visual & Critical Studies for four continuous semesters, and the summer session between semesters two and three, in the first two years of their studies. In their third and final year, dual degree students are eligible for shared studio space (typically, two students per studio), for their two remaining consecutive semesters, if space is available.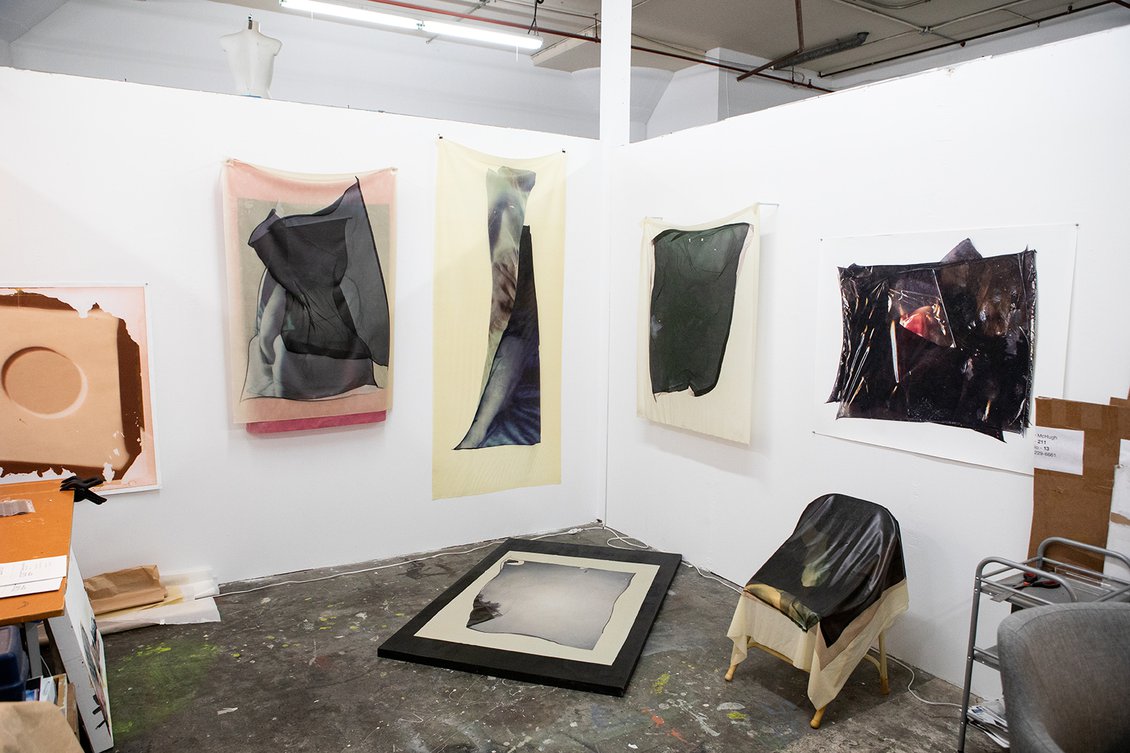 Tailor your course of study
The program supports a wide range of interdisciplinary practices, discourses, and histories. Individual studio critique, the core curriculum, and a wide range of open electives across fields encourage experimentation and individualized in-depth research.
Collaborate with visiting artists
Close contact and collaboration with a wide range of visiting artists complements the curricular work done with program faculty. Each year, a distinguished artist teaches a month-long Residency Intensive, and the Larry Sultan Visiting Artist Program brings prominent photographers and media artists to give public presentations and engage with students annually. Recent visitors have included Judith Butler, Jibade-Khalil Huffman, Shannon Ebner, Lyle Ashton Harris, Mickalene Thomas, An-My Lê, Nairy Baghramian, Ralph Rugoff, Collier Schorr, Tania Bruguera, Deana Lawson, Walid Raad, Thomas Demand, and Kai Althoff.
Make socially engaged art
The theory and practice of social engagement is a central, distinctive ethos of the MFA Fine Arts program. As home to the nation's first Social Practice program, CCA's graduate studies supports social engagement throughout the MFA curriculum as well as a specialized social practice workshop that focuses on urban environments, regional communities, research-based practice, or institutional structures.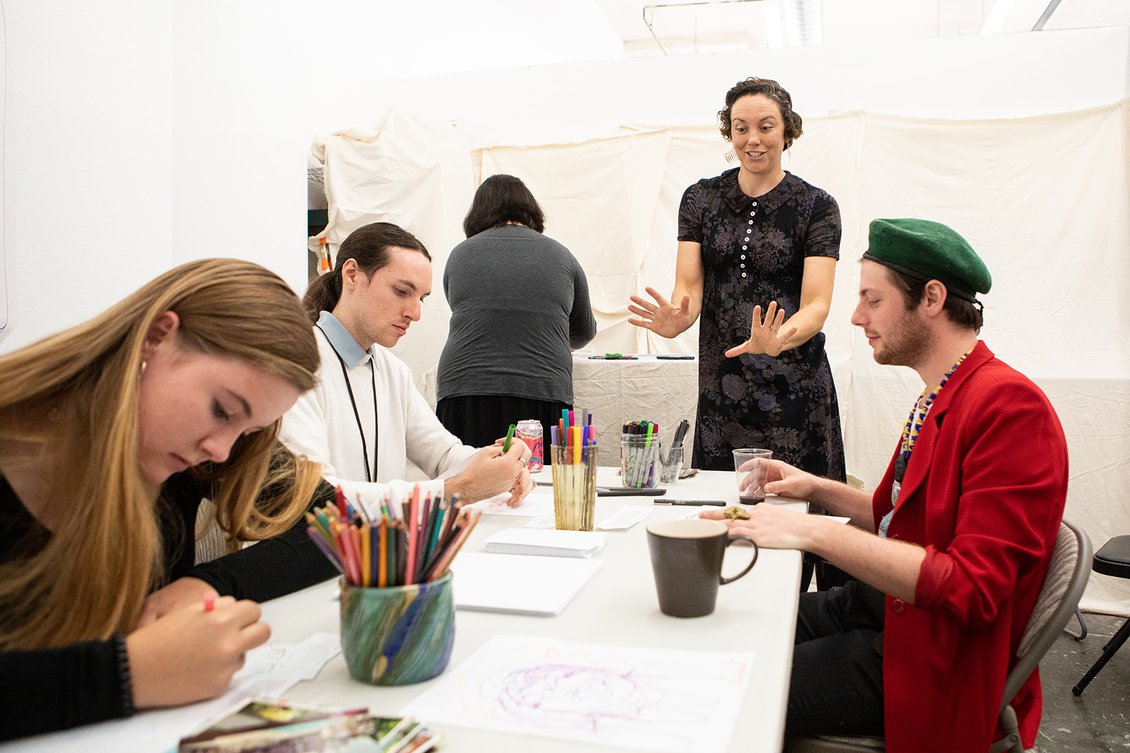 Active professional artists, writers, and curators
The program's distinguished faculty is composed of internationally active artists, critics, curators, and scholars. The faculty's vast experience working with institutions and communities in many diverse art worlds gives Fine Arts graduate students a wide collective pool of expertise from which to draw as they formulate and refine their own individuated artistic position.
Chair Peter Simensky is an interdisciplinary artist whose work has been featured in solo exhibitions at the Museum of Contemporary Art San Diego; Museum 52, New York; Museum 500meter, Sapporo; The Swiss Institute, New York; and Project Row Houses, Houston.
>> View all Fine Arts, MFA Faculty + Staff
MFA Fine Arts graduates participate in a wide variety of contemporary art contexts after they leave the program. They use their skills as socially engaged artists and thinkers to establish international careers as practicing professional artists, as well as to pursue an expansive array of other paths, including establishing their own collectives and exhibition spaces, teaching, critical writing, and arts administration. Notable recent alumni include Diedrick Brackens, Toyin Ojih Odutola, Sarah Hotchkiss, Carmen Winant, Zarouhie Abdalian, and Suné Woods.
Potential career paths
Visual artist
Writer and critic
Curator
Photographer
Filmmaker
Educator
Community activist
Researcher
Arts administrator
Diversity, Equity, Inclusion, and Belonging
Diversity, Equity, Inclusion, and Belonging Statement 
The Graduate Fine Arts Program embraces a conception of art making as a vital and self-critical means of knowledge production and engagement with others.  As a committed endeavor of individual action and global citizenship, art can embrace difficult issues and propose alternative ways of being. In support of this model of art, our program explicitly regards diversity—of perspectives, lived experiences, and methodologies—as a prerequisite of an artistic community engaged in reflective thought and cultural production.
The Graduate Fine Arts Program is committed to diversity and equity in the myriad modes of making our Program supports, including fostering open, informed discussion—--and critique—--as a foundation of our studio-based making culture. Within this framework of exchange, we actively seek to build an inclusive community that supports and values diversity and intersectional identity throughout our communal decisions and actions, while recognizing this is on-going work that must be flexible and responsive.
This work actively unwinds inequality created on structural and interpersonal levels. The anti-racist and anti-discriminatory work in which we engage is collective and individual at the same time. In Graduate Fine Arts, we actively cultivate de-centered rather than hierarchical power structures in all learning interactions, coursework, and Programmatic decisions. The Graduate Fine Arts program also recognizes the gaps and inequity driving external art worlds as well, and seeks to contribute to a tipping point that reinvents how culture manifests in society.
To this end, we follow CCA's college-wide commitment to increase racial, socioeconomic, and global diversity among students, staff, and faculty. We develop our pedagogy and curriculum to reflect social and cultural diversity, and work to build a campus community that supports and values diversity.
CCA campuses are located in Huichin and Yelamu, also known as Oakland and San Francisco, on the unceded territories of Chochenyo and Ramaytush Ohlone peoples. 
This statement was collectively authored by the Graduate Advisory Council and is a work in progress.
Related Shops