Manager Review of Employee Self-Evaluation
Manager Review of Employee Self-Evaluation
Once the employee completes and submits the evaluation, it will go to the current manager for review and approval. At this time, the manager will need to set aside time to review the self‐assessment the employee has submitted. The employee's evaluation will appear in the Workday Inbox.
---
Check for: Completeness and Quality of New Goals!
Up to 3 Work Accomplishments/Areas of Strength
At least one item listed in the Key Area(s) of Growth & Development section
Understanding of Manager Support requests
New/Continuing SMART Goals for Professional and Individual Goals
Review any additional documents submitted
---
More About Employee Goals
Proper goal setting is foundational for good performance. In the first part of the evaluation, the manager and employee may review the goals from the last performance cycle to help assess work accomplishments/areas of strength, and then look forward by agreeing upon new goals that will be accomplished in the new performance year. Individual goals should support department objectives that are aligned with the overall objectives and mission of the college when possible. Even when strategic plans have not been communicated, the needs of those you serve are good starting points for setting meaningful goals. Please check the SMART Goals for guidelines ensuring the goals that have been entered meet standards. You may also wish to view the Goal Setting Webinar for additional tips.
---
Send Back for Additional Changes by Employee
If there are any changes that need to be made by the employee that you, as the manager, sees, you will need to Send Back the evaluation. Just include a comment about the change(s) that needs to be made and click the Send Back button at the bottom of the window.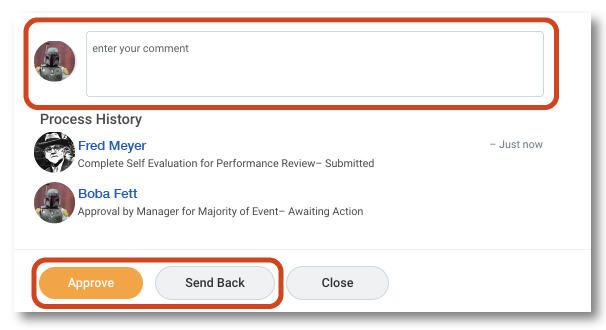 ---
If there are no further changes the employee needs to make on their evaluation, click the Approve button at the bottom of the page.
---