Shared On Campus Workspaces
Shared On Campus Workspaces
In order to best accommodate more flexible work schedules, the College has shifted to a shared workspace model on campus, where most desks will be reservable and shared among staff. Employees are encouraged to work within their department neighborhood when on campus and have access to collaboration spaces to support increased collaboration among teams. The primary shared workspace is within the 80 Carolina building, however additional spaces exist for Academic Administration in 1111 Eighth St.
We recognize that teams have different service levels that they provide and different needs to be most successful in their work. The below information is intended to provide clear guidelines, expectations and norms for this shared office space - to ensure that all teams feel welcome, like they belong, and are able to be productive.
And please remember...we are all here to serve our students in an environment that is welcoming. We all play a role in modeling what it means for our community to unify and can help foster a positive and vibrant campus community! The college's history and guiding principles continue to be at our core.
---
General Shared Space Guidelines & Expectations
What Can You Expect from the Space and What Can We Expect from You
Many departments use this space in different ways - some more front-facing customer support and others provide more back-end support to the college. Please be mindful of these notions:
Noise and volume - if you need to have a lengthy conversation, please use a phone booth, collaboration space, or take a walk outside! Consider using noise canceling headphones if you have focused work to do.
Guest/visitor support - we are all responsible for ensuring that faculty, staff, students and visitors who enter our space are supported. While the front desk team will provide first point of contact support, if you notice someone wondering, please ask how you can help.
Use the lockable cabinets! Each hot desk has a lockable cabinet for use while you are on campus for the day. Personal items and laptops should be locked away if you step away from your desk. Please do not leave personal items behind on the desk at the end of the day. It may cause confusion around desk availability.
Refer to the portal page on Ergonomics for more information and proper use of the chairs and standing desks. If you require ergonomic accommodations when working on campus, please reach out to Human Resources at hr@cca.edu for assistance.
Front door to the 2nd floor of 80 Carolina will be physically open from 8:30am - 4:30pm Monday - Friday for easy access to the space. Please note that hours for the front desk team during the summer are 10am - 3pm Monday - Friday.
Equipment/Office Supplies
You are expected to bring the following items with you when using a hot desk:

CCA laptop
Adaptor (to connect to monitor and keyboard), which is issued with each laptop
Power adapter, issued with each laptop
Mouse or trackpad
Headset or earphones, if needed for zoom
Forgot something? Check in with the front desk team for back-up supplies that you can borrow for the day, including headphones.
Need office supplies? Additional office supplies are found in the printer room by the kitchen, in labeled cabinets. If you need any additional items, please email Mary Thuku (mary.aymor@cca.edu) with your order request. She will place monthly orders, as needed, on the 15th of each month. If you take the last of an item, please let Mary know as well, so that she can replace items.
Kitchen
The kitchen space can be used for storing and preparing food/drinks and/or eating. Glasses and dishes are in the upper cabinets and coffee is also provided. Please be mindful that this space is shared by everyone. It is your responsibility to wash your dishes and clean up after yourself. Please remove all personal food items every Friday. The fridge will be cleaned weekly and remaining food items will be tossed.
Safety & Emergency Procedures
Please refer to Public Safety portal page for information regarding safety on campus including maps, evacuation plans, emergency response guides, and how to respond to emergency situations. The Director of Public Safety has also created this video to guide you through the available content.
80 Carolina Workspace Committee
A committee of team leads has been created to help with decision-making for this workspace, address concerns, and promote a culture of inclusiveness and belonging. Please reach out to your team lead or HR with any questions for this committee.
---
The 80 Carolina 2nd floor administrative space is allocated for staff to use when on campus, but faculty, staff and students may be in this space as they work with departments. The 2nd floor space is intended to primarily support back-end student and academic services. This includes departments such as Student Affairs and Academic Affairs.
Other administrative units, such as BSO/Finance, Advancement, Marketing & Communications, Technology Services and the President's Office, will be utilizing the space. Most of the staff within these departments are in hybrid positions and will develop shifts/schedules to manage capacity and services on the campus.
The front desk on the 2nd floor will provide first point of contact service to all departments using this workspace, and will receive and direct guest appropriately. Front desk hours are Monday - Friday, 8:30am - 4:30pm.
Front Desk Team:
Charles Chun, Tech Services & Operations
Mary Thuku, HR, Enrollment Management & DEIB
Eduardo Guillen, President's Office & BSO
Front Desk Phone Number: 415-551-9393
Primary Responsibilities:
Front Desk Management: 

Greet students/staff/faculty and visitors as they arrive as the first point of contact

Students will be asked to wait in the seating area until the appropriate staff member comes to get them; workstudy students will be able to go directly to their office space
Staff/faculty will be able to go where they need to, assuming they have a CCA ID
The front desk team has chat channels set up with Student Services and some Student Affairs teams to help with quick communication

Manage office supply inventory - let them know if something is missing
Manage the process for loaning tech equipment to staff, if requested 
Submit tickets if hot desk equipment is missing, something is broken, cleaning supplies need to be restocked 
Distribute paychecks to students/staff/faculty

Support 80 Carolina staff:

Demonstrate an understanding of the typical needs that students will have, to be able to best support 
Understand the layout of the 80 Carolina space to provide recommendations in finding appropriate spaces for use. At critical urgent times, support staff in locating a private available space. 
Provide support with Google Calendar scheduling
Support donors or trustees with administrative requests, if needed
Pass feedback along to the 80 Carolina Workspace Committee
Support to ensure 80 Carolina protocols are adhered to (ex. room reservations, using locked filing cabinets)
---
Orienting Yourself in the Space
The following types of spaces are available for reserving:
All desks on the open floor can be used as hot desks.
Three large conference rooms are available for any staff team to reserve via Google Calendar for team meetings.
11 collaboration rooms, designed to support ad-hoc or scheduled meetings between 2 or more people, can be reserved via Google Calendar.
If you need a private spur of the moment space, you can use one of the two phone booths or connect with the front desk for assistance.
An updated floor plan will be posted shortly.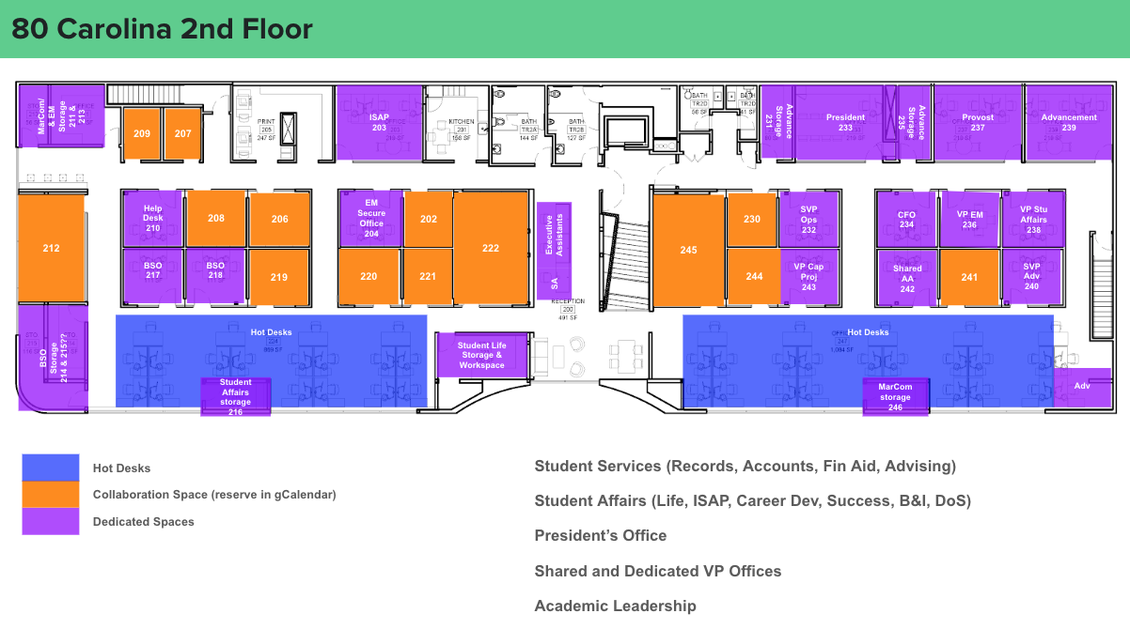 ---
Reservation Protocols & Expectations
Hot Desks
Hot desks do not need to be reserved and are ready for use. They are marked with a hot desk sign.
Conference and Collaboration Spaces
Protocols for using these spaces:
Appointments should be made in 30 minute increments and not be booked more than a semester in advance.
Staff understand and agree to leave at the end of their scheduled appointment.
Staff agree to cancel all meetings so others can use the room if not needed.
Please avoid booking meetings for longer than 3 hours so everyone has regular access.
KEEP COLLABORATION SPACE DOORS UNLOCKED, so that others can use these rooms.
Food is acceptable in all spaces, but all users are expected to remove any food or materials from their meeting and fully restore the rooms to their base setup condition. Note, these spaces should not be reserved just for eating.
Many rooms are set up with A/V and conferencing furniture designed into the spaces. Please maintain all furniture in the rooms and do not shift any equipment around in these rooms. Please see the Technology Services provided instruction sheet for use of the AV systems.
If you experience any issue with the AV equipment, please contact the Help Desk at helpdesk@cca.edu.
If you experience any furniture issues, please report it immediately to the Facilities Help Desk.
These spaces are available to be reserved using Google Calendar. Reserved a Collaboration Space Using Google Calendar for step-by-step instructions.
COVID Safety - CCA ID Badge Swiping on Campus
In order for the college to comply with CAL/OSHA COVID safety protocols in the workplace, we are needing to track those that are on campus in order to notify them of a potential COVID close contact. We are asking all staff and faculty to swipe their CCA ID badge once per day, when on campus. 

Where: There are multiple locations upon entrances that you can use and should be easily visible. 
The 1111 8th Street building has card readers at the 455 Irwin entrance and the Hooper Street entrance at the back of the Nave
The 80 Carolina Building has card readers at the building entrance and the second floor reception area
How: Just swipe your CCA ID. Even if the door is already open, the goal is to identify those that may have entered the space at some point that day.