The next registration opportunity for the Fall 2021 term will begin during the add/drop period on Friday, August 27th. Any schedule changes for continuing students must wait until the add/drop period. For students who were unable to register for courses during the priority or open registration period, please email studentrecords@cca.edu for assistance.
---
The Summer 2021 online open registration period opens on Monday, March 22, 2021 at 8:00 am (Pacific Time) and ends on Thursday, May 6th at 11:59 pm (Pacific Time). Students can register for summer courses via Workday following the registration instructions on the Register for Courses Step by Step Guide Portal page.

Students can add or drop courses by contacting the Student Records Office after the online open registration period is over as long as the payment has been made. Please note that Friday, May 7 is the payment deadline for Summer 2021 courses. Students are subject to be dropped from their Summer 2021 courses if the payment has not been made by the deadline. Students should pay tuition via TouchNet or contact Student Accounts (studentaccounts@cca.edu or 510.594.5086).
If students want to add classes after the course section's start date, students must receive approval from the faculty and forward the approved email to the Student Records Office.
If you are requesting to add or drop classes to the Student Records Office, please email your full name, ID number, and the course section numbers and titles for which you want to register via your CCA email (or copy your CCA email if you are forwarding your CCA email to a personal account). Students can refer to the following document for specific drop and withdrawal deadlines, and the tuition refund policy for Summer 2021.

---
The Fall 2021 registration period begins on Monday, March 29, 2021 at 8:00 am (Pacific Time) and ends on Friday, April 16, 2021 at 11:59 pm (Pacific Time).

Priority registration begins on a specific date based on a student's class standing ("class level"), known as a registration appointment. Students can find their individual registration times in Workday, under Upcoming Registration Appointments. Register as soon as possible to benefit most from your priority registration time.

The first two weeks are priority registration appointments based on the student's class standing ("class level"). The detailed schedule is as follows.
Monday, 3/29 to Wednesday, 4/11: Seniors, Graduates
Thursday, 4/1 to Sunday, 4/11: Juniors, Seniors, Graduates
Monday, 4/5 to Wednesday, 4/11: Sophomores, Juniors, Seniors, Graduates
Thursday, 4/8 to Sunday, 4/11: First years, Sophomores, Juniors, Seniors, Graduates
Monday, 4/12 to Friday, 4/16: Open registration for all students
Registration steps can be found on this page. Contact the Student Records Office for assistance.
---
Summer and Fall 2021 Closed Section Registration Process
The process of how to get approval for the closed course over-enrollment in the Summer and Fall 2021 semesters as follows:
For the major courses, students should contact their program chair and academic director for approval. 
For the co-located H&S courses, students should contact the program chair and academic director. If it is co-located across more than one program, students should contact the chair of the section they need to fulfill the appropriate requirement.
For the courses with a waitlist, there won't be a manual over-enrollment approval. There may be some exceptions that could get made for students who need to enroll in a course to graduate on time. The request doesn't guarantee the approval. Otherwise, students should monitor the open spot and complete the add process if they still want to enroll in the course. Students are recommended to find an alternative course.
---
An undergraduate student trying to add a graduate level class, or a graduate student trying to add an undergraduate class will have to wait until the open online registration period for all continuing students to add the class.
In both situations students will need the approval of the program manager of the course they wish to register. Graduate students trying to register for an introductory undergraduate class will not need the instructor's signature. Graduate students receive Pass/No Credit grades in undergraduate classes.
Graduate and undergraduate students will need to register with the Student Records Office.
---
By participating in registration via meetings, email, phone, and/or online, you confirm your intent to enroll at California College of the Arts (CCA). You agree to be registered in Summer or Fall 2021 courses and to satisfy student obligations (financial and otherwise) as stated in the CCA Student Handbook and on Portal (occasionally revised by the College and as interpreted by College officers). You agree to pay amounts due, stated here and in any later billings and/or statements. See Tuition + Fees for more information. You are responsible for reviewing your class schedule, academic progress, and academic plan, making any necessary changes during Open Registration and/or Add/Drop, notifying the college of any questions or concerns in a timely manner. You are also responsible for dropping or withdrawing from courses you do not intend to remain in by the stated deadlines on the Academic Calendar.
---
Where can I find my priority registration appointment?
Select "Academics" dashboard in Workday, and You will see your registration appointment under "Upcoming Registration Appointments".
Why is my registration time different from my friends'/classmates'?
Appointment times are based on completed units prior to current term. This does not count units in progress.
Where can I view my class standing ("class level") and my total completed units?
Login to Workday
> go to "Academics"
> click on "View Academic History"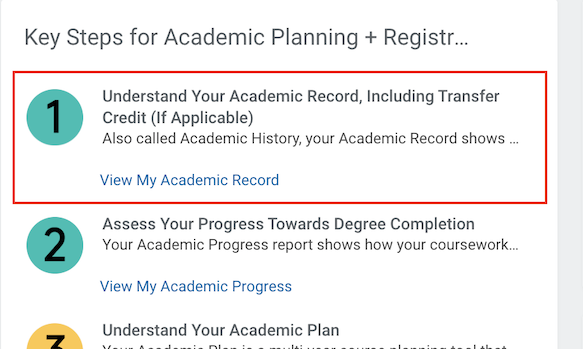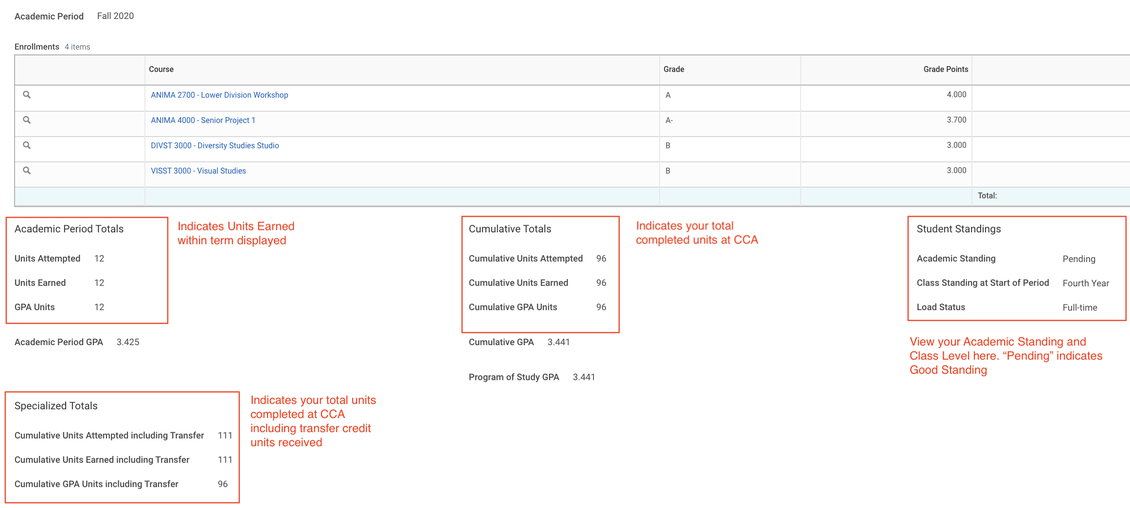 How do I register for courses in Workday?
I want to register for two courses that have time conflicts or I need to register for a course that conflicts with another course I'm registered for.
If there are no other options available, students should contact Academic Advising (undergraduates) or their Program Manager (graduates) to discuss how to meet course requirements.
I need to register for another course section with the same course number, but Workday won't let me. (i.e. a student is already registered for METAL 2080-1 and needs to register for METAL 2080-2)
Please contact studentrecords@cca.edu with your name, student ID number, and the section number for the second course you would like to add.
The section I'm trying to register for shows as "open", but I cannot register for it.
Please contact the program that offers the course for further information. You may refer to the Current Chairs and Deans page to find the chair of the program you're looking for.
What are clustered courses?
These courses require students to register in a Lecture section with a Discussion or Lab section
How do I know if I have a hold in Workday?
Under "Academics", students can view active holds on their dashboard under "My Holds".