---
If you have a question in regards to registration, please contact Student Records via email at studentrecords@cca.edu
If you have a question about how your registered courses will count towards your degree progress or Academic Plan, please contact your Academic Advisor via email at academicadvising@cca.edu
If you are an international student and have questions about your visa status, please contact ISAP via email at isap@cca.edu
---
Instructions of Adding/Dropping/Swapping Course or Waitlist
Add course - Add a class to your schedule if the class still has available space.
Drop course - Drop a class by clicking the "Drop" button on your schedule if you no longer want to be enrolled in a class. You will receive a full refund if dropping happens during the add/drop period. The dropped course will not appear on the transcript.
Swap course - You can drop a course while registering for another. This is helpful to save your place in the original course while you attempt to register for another.
Please follow the instructions of the Register for Courses Step-By-Step Guide to add, drop, or swap a course.
Waitlist - If you are on a waitlist for a course section and received a notification via your CCA email address, please follow the instructions in the email to add or drop from the waitlist. Check the Waitlist page for further information about the waitlist process.
---
The Spring 2022 registration period begins on Monday, November 1, 2021 at 8:00 am (Pacific Time) and ends on Friday, November 19, 2021 at 11:59 pm (Pacific Time).

Priority registration begins on a specific date based on a student's class standing ("class level"), known as a registration appointment. Students can find their individual registration times in Workday, under Upcoming Registration Appointments. Register as soon as possible to benefit most from your priority registration time.

The first two weeks are priority registration appointments based on the student's class standing ("class level"). The detailed schedule is as follows.
Monday, 11/1 to Sunday 11/14: Seniors, Graduates
Thursday, 11/4 to Sunday, 11/14: Juniors, Seniors, Graduates
Monday, 11/8 to Sunday 11/14: Sophomores, Juniors, Seniors, Graduates
Thursday, 11/11 to Sunday, 11/14: First years, Sophomores, Juniors, Seniors, Graduates
Monday, 11/15 to Friday, 11/19: Open registration for all students
Registration steps can be found on this page. Contact the Student Records Office for assistance.
---
Spring 2022 Closed Section Registration Process
The Spring 2022 closed section registration process is as follows:
For major and Humanities and Science (H&S) courses without a waitlist, students should contact the program chair or academic director responsible for the course they want to add.
For the co-located H&S courses without a waitlist, students should contact the program chair or academic director responsible for the course they want to add. If it is co-located across more than one program, students should contact the chair of the section they need to fulfill the appropriate requirement.
For the courses with a waitlist, there won't be a manual over-enrollment approval. There may be some exceptions that could get made for students who need to enroll in a course to graduate on time. The request doesn't guarantee the approval. Otherwise, students should monitor the open spot and complete the add process if they still want to enroll in the course. Students are recommended to find an alternative course.

Students can find chair information under Current Deans and Chairs or search "Academic Chair Assignments" in Workday. For further information contact studentrecords@cca.edu.
---
An undergraduate student trying to add a graduate level class, or a graduate student trying to add an undergraduate class will have to wait until the open online registration period for all continuing students to add the class.In both situations students will need the approval of the program manager of the course they wish to register. Graduate students trying to register for an introductory undergraduate class will not need the instructor's signature. Graduate students receive Pass/No Credit grades in undergraduate classes. Graduate and undergraduate students will need to register with the Student Records Office.
---
Where can I find my priority registration appointment?
Select "Academics" dashboard in Workday, and You will see your registration appointment under "Upcoming Registration Appointments".
Why is my registration time different from my friends'/classmates'?
Appointment times are based on completed units prior to current term. This does not count units in progress.
Where can I view my class standing ("class level") and my total completed units?
Login to Workday
> go to "Academics"
> click on "View Academic History"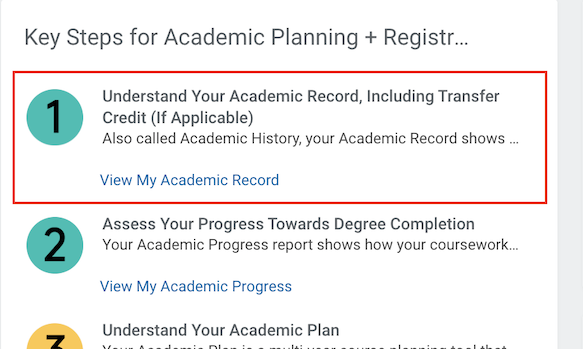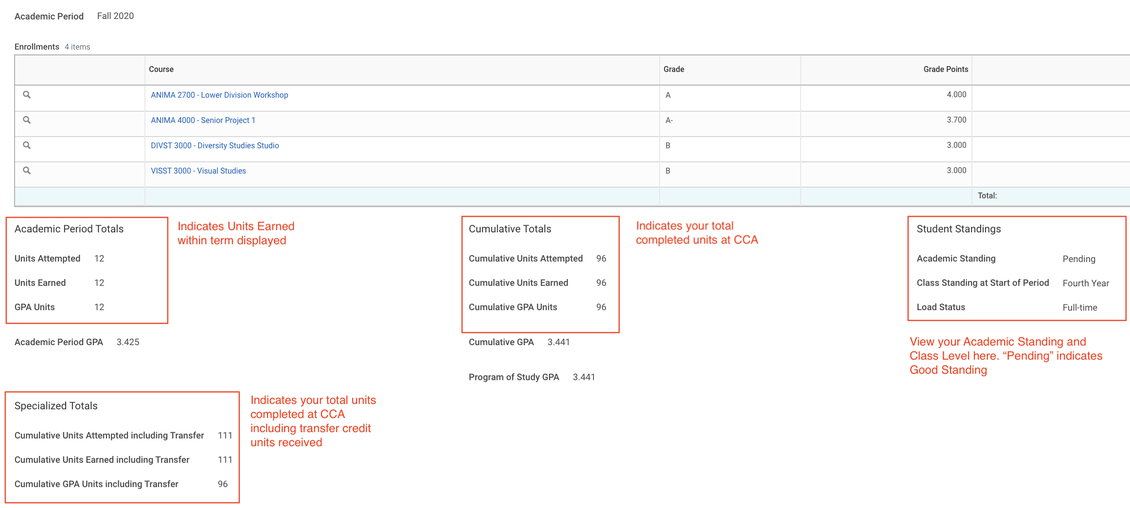 How do I register for courses in Workday?
I want to register for two courses that have time conflicts or I need to register for a course that conflicts with another course I'm registered for.
If there are no other options available, students should contact Academic Advising (undergraduates) or their Program Manager (graduates) to discuss other alternative course choices.
I need to register for another course section with the same course number, but Workday won't let me. (i.e. a student is already registered for METAL 2080-1 and needs to register for METAL 2080-2)
Please contact studentrecords@cca.edu with your name, student ID number, and the section number for the second course you would like to add.
The section I'm trying to register for shows as "open", but I cannot register for it.
It could be a co-located course that is shared capacity with another section. Please follow the above instructions of the Fall 2021 Closed Section Registration Process to add a course.
What are clustered courses?
These courses require students to register in a Lecture section with a Discussion or Lab section
How do I know if I have a hold in Workday?
Under "Academics", students can view active holds on their dashboard under "My Holds".
If you have a Financial Hold, please contact Student Accounts via email at studentaccounts@cca.edu or call 510-594-5086 to resolve the hold.