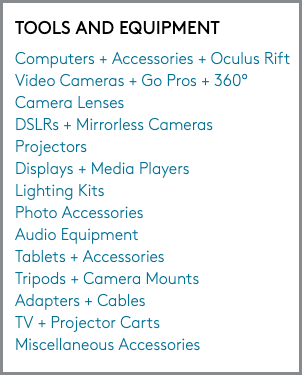 Use this section to list your shop's equipment and/or tools. Link listings to their tool pages or even to external webpages to provide your users with further detail.

On you shop page, entries will display as a list of links (or static text for entries without links).
---
Add a Tool / Related Equipment in Wagtail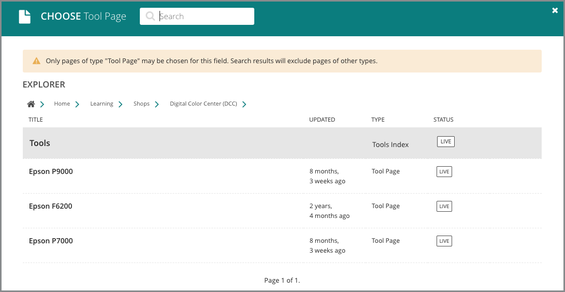 To expand the Tools & Equipment field in Wagtail, click the down arrow icon to the left of the field title.
Click on Choose a Page (Tool Page). This will bring up a page-picker allowing you to navigate through Wagtail to the desired Tool page.

Note: this page-picker is restricted to pages using the Tool page template. Any other page type will show up grayed-out and cannot be selected.


The next field you will need to input is the Tool name. This will be the text to display on your Shop page, regardless of the linked page name.
The last field offers a place for an external link. In the absence of an associated Tool page on Portal, an external link can point users to a tool manufacturer's website or some other similar resource.
Select Add Related Equipment Links to add additional items.
Note: Please do not attempt to link to both a Portal Tool page and an external resource for any one featured tool.